Canada survives scare against Sweden; advances to final of 2013 4 Nations Cup

LAKE PLACID, N.Y. – Jayna Hefford (Kingston, Ont./Brampton, CWHL) scored the winning goal Friday as Canada's National Women's Team survived a scare before coming back to beat Sweden 4-3 at the 2013 4 Nations Cup.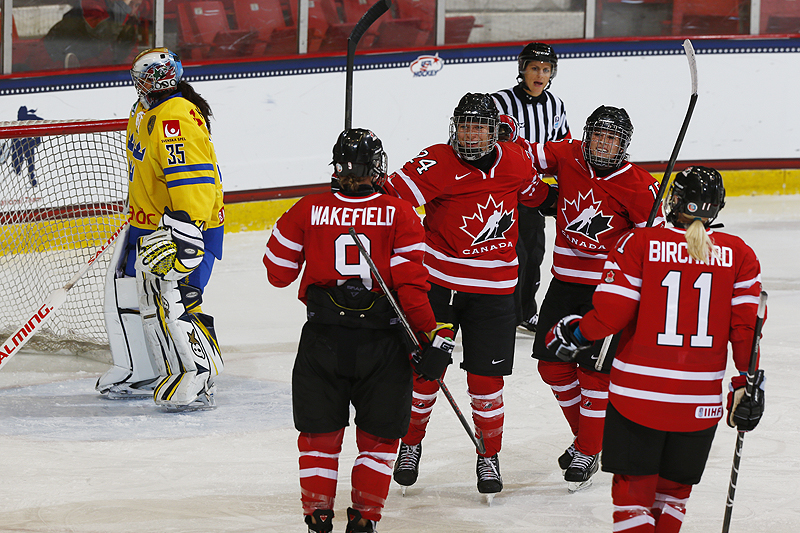 The Swedes looked like they were on their way to a shocking upset when they scored goals 20 seconds apart to take a 3-1 lead early in the second period.
But Canada responded and was spared blushes as Natalie Spooner (Scarborough, Ont./Toronto, CWHL) scored two straight goals, setting up Hefford's winner.
"We really don't feel like we played our game very well today and there was a bit of a struggle throughout," Hefford said. "But sometimes games are like that. You have to grind them out and chip away, and that's how we looked at it."
Canada finished the round-robin portion of the tournament with a 3-0 record and advanced to Saturday's final.
They will play either the host United States or Finland, who played later Friday, for gold. Both Finland and the U.S. have 1-1 records, but the Americans have a plus-8 goal differential to Finland's zero.
"Regardless of who we face, were going to be challenged and we have to come out with a much better game than we had today," Hefford said.
Meghan Agosta-Marciano (Ruthven, Ont./Montreal, CWHL) also scored for Canada, while Shannon Szabados (Edmonton, Alta./Northern Alberta Institute of Technology, ACAC) made eight saves on 11 shots.
Sweden goaltender Valentina Wallner was outstanding, making 41 saves on 45 shots.
Anna Borgqvist, Jenni Asserholt and Lina Backlin scored for Sweden, which finished the tournament 0-3.
Canada brought a younger squad to 4 Nations Cup tournament, leaving several veterans, including talismanic forward Hayley Wickenhiser (Shaunavon, Sask./University of Calgary, CIS), off the roster for a rest.
Head coach Dan Church said he welcomes the way the young squad battled through adversity.
"Coming out and struggling in the first two periods today wasn't part of our game plan," Church said. ``But the response from our group was good in the third period.
"The young players have really worked hard over these last three games and that is what you want to see. Leaving some veterans at home is an opportunity for them to step up and play some more minutes and show some leadership."
› Summary