WHITE'S WINNER GIVES WHITE WIN
CALGARY, Alta. – Catherine White (Brampton, Ont./Cornell University, ECAC) scored in the fifth round of the shootout as White opened the National Women's Team evaluation camp with a 4-3 win over Red on Thursday night.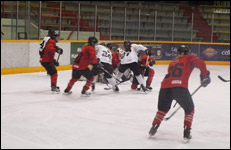 White snapped a shot under the arm of Geneviève Lacasse (Scarborough, Ont./Providence College, HE) to help the team in the pale jerseys avoid losing a game they led with under two minutes go. Brianne Jenner (Oakville, Ont./Cornell University, ECAC), Tara Watchorn (Newcastle, Ont./Boston University, HE) and Laura McIntosh (Waterloo, Ont./Ohio State University, WCHA) scored the other goals for White.
Sarah Vaillancourt (Sherbrooke, Que./Montreal, CWHL) scored twice to pace the Red offence, including the game-tying goal on the power play with just 1:11 to go. Jennifer Wakefield (Pickering, Ont./Boston University, HE) had the other goal for White, which led 2-1 late in the second period before Watchorn and McIntosh beat Lacasse for a 3-2 lead after 40 minutes.
Amanda Mazzotta (London, Ont./Cornell University, ECAC) stopped three of the first four shooters she faced in the shootout – only Vaillancourt beat her – before the final chance off the stick of Jamie Lee Rattray (Kanata, Ont./Clarkson University, ECAC) bounced off the cross bar.
Both teams return to the ice at Father David Bauer Olympic Arena on Friday; Red takes on Yellow at 6:30 p.m. MT, while White battles Blue at 8:30 p.m. MT.