CANADIAN WOMEN END WINLESS DROUGHT WITH 3-1 VICTORY OVER UNITED STATES

VICTORIA, B.C. – Using timely offence from Meghan Agosta and brilliant penalty killing, Canada's women's hockey team ended a long winless drought against its biggest rival.

Agosta scored twice and Canada's penalty killing unit was a perfect 6-for-6 in a 3-1 victory over the United States on Monday night.

The Canadians took the first round of a six-game exhibition series in front of 6,072 fans at the Save-on-Foods Memorial Centre.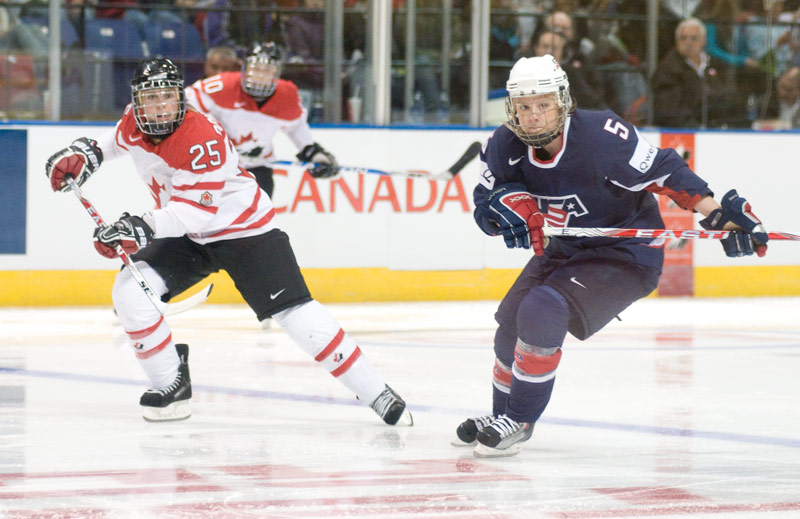 Sarah Vaillancourt also scored for Canada, while Erika Lawler replied for the U.S.

Canada had dropped its last three meetings with the Americans and hadn't defeated its archrival since April 10 – a 2-1 win over the U.S. in Hameeenlinna, Finland.

Canada goaltender Kim St-Pierre held steady, weathering four first-period power plays as the Americans fired 14 shots in the opening minutes.

The Canadian penalty kill held firm and kept a clean sheet when both Tessa Bonhomme and Gina Kingsbury left Canada with a two-player disadvantage.

St-Pierre said the penalty kills set the tone for the rest of the match.

"After we held them off in those first few minutes we came back stronger and ended up scoring," she said. "I knew I needed to have a big game tonight and the girls in front of me played so well."

Jayna Hefford had the crowd on its feet ten minutes into the game when she skated past her markers and had only American goalie Molly Schaus to beat. The American netminder stepped up and kept the score level with a crucial pad save.

The home side finally broke the deadlock on the power play with 2:41 left in the first period. Hayley Wickenheiser fed Hefford who found Agosta for the game's opening strike.
The Canadians carried the momentum into the second period where they outshot their southern opponents 19-10 but failed to find the back of the net.

Canada's best second period scoring opportunity came in the 13th minute when Agosta sliced the American defence but a cross goal diving effort from Schaus kept the score 1-0.

"We could have been down by a lot more if it wasn't for our goalie tonight," American head coach Mark Johnson of Schaus' performance.

Canada added to its lead 3:30 into the third period when Vaillancourt sent a hard shot past Schaus. Three minutes later, Natalie Darwitz fed Lawler for the American's first and only goal.

The momentum failed to shift in the American's favour and Agosta combined with Wickenheiser in the 12th minute of the final period for the insurance goal.

Canada outshot the U.S. 44-36.

The two sides will be back in action for the second leg of the exhibition series when head to Spokane, Wash., on Oct. 16.