CANADIAN WOMEN EDGE AMERICANS FOR FOURTH-STRAIGHT WIN
ST. PAUL Minn. – The intense rivalry between Canada's National Women's Team and its American counterparts became abundantly clear Wednesday night on the ice at the Xcel Energy Center, but 40 saves by Charline Labonté (Boisbriand, Que.) and two points from defenceman Colleen Sostorics (Kennedy, Sask.) helped Canada earn a 2-1 win over the United States.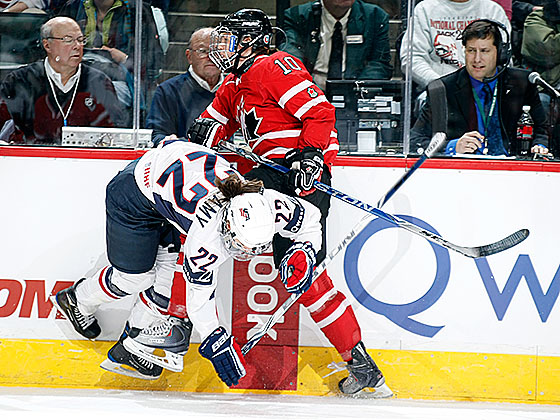 The win is Canada's fourth straight against their southern rivals and gives the National Women's Team a 6-3 record against the U.S. in 2009-10, with just one more game before the 2010 Winter Olympic Games begins February 12 in Vancouver, B.C.
Haley Irwin (Thunder Bay, Ont.) helped Canada kick off Wednesday's game on a high note, tipping a Sostorics point shot past American netminder Molly Schaus just over two minutes after the opening face-off. The assist for Sostorics gave her 50 international points, while Sarah Vaillancourt (Sherbrooke, Que.) also picked up a helper.
But the Americans weren't about to let their Canadian competitors run up the score after a 6-2 loss in Calgary and a 4-2 defeat in Denver earlier this month. Karen Thatcher answered back by picking up a rebound and putting it past Labonté's midway through the second, with Jocelyne Lamoureux and Erika Lawler helping out.

It would be Sostorics who came through for Canada later in the period, sending a rocket past Schaus. Gillian Apps (Unionville, Ont.) and Hayley Wickenheiser (Shaunavon, Sask.) had assists on the game-winning goal.
Although Sostorics walked away with Player of the Game honours, Labonté was shining just as bright between the posts Wednesday. She stopped 19 shots in the third alone, including a two-on-one midway through the period that had her sprawling in all directions to cover the puck.
With just 45 days until the Olympics kick off in Vancouver, the teams match up one final time, on Friday in Ottawa (7 p.m. ET), where organizers will look to set an all-time Canadian record for attendance at a women's hockey game.