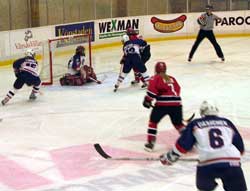 Canada's National Women's Team lost its first game to the U.S. since before the Olympics, as the Americans captured a 2-0 win in round robin play on Thursday at the 2003 4 Nations Cup.

The best scoring chance early on came shorthanded, as Jayna Hefford chipped the puck past the U.S. defence, went in all alone but was stymied by U.S. goaltender Pam Dreyer, who was facing Canada for the first time ever.
USA had it's own great chance, as Katie King had a point blank chance, but Sami Jo Small kicked out her right leg for a great toe save to keep things scoreless through the first period.

U.S. finally got onto the scoreboard as Katie King pushed a rebound past Small at 13:36 to give the Americans a 1-0 lead, which they maintained through the end of the middle frame. A second U.S. goal came on an errant pass by goaltender Small, which Natalie Darwitz intercepted and turned into a 2-0 lead. Canada ran into some penalty trouble in the final minutes, and U.S. skated off with a 2-0 win.

Canada gets on off day on Friday, and then wraps up the round robin against Finland on Saturday, November 7th.
| | | | | | |
| --- | --- | --- | --- | --- | --- |
| Box Score | CAN | | | | |
| Compte | USA | | | | |
First Period/Première période
Scoring/Buts:
Penalties/Pénalités:
02.59 2 min CAN 4. KELLAR, Becky HOOK
08.00 2 min USA 10. INSALACO, Kim
11.07 2 min CAN 20. CORRENE, Bredin
15.48 2 min CAN 10. APPS, Gillian INTRF

Second Period/Deuxième période
Scoring/Buts:
33.36 0 - 1 PP1 USA 20. KING, Katie (12. POTTER, Jenny)
Penalties/Pénalités:
24.37 2 min USA 4. RUGGIERO, Angela
25.31 2 min USA 3. HAGERMAN, Jamie INTRF
32.40 2 min CAN 20. CORRENE, Bredin
34.51 2 min CAN 13. OUELLETTE, Caroline HOOK
Third Period/Troisième période
Scoring/Buts:
49.21 0 - 2 SH1 USA 22. DARWITZ, Natalie
Penalties/Pénalités:
42.44 2 min USA T. Team USA DELAY
47.49 2 min USA 25. DUNN, Tricia
50.32 2 min CAN 19. DESROSIERS, Annie
51.00 2 min CAN 20. CORRENE, Bredin CHARG
56.50 2 min CAN 77. CAMPBELL, Cassie TRIP

Goaltenders

CAN

SMALL, Sami jo

Gardiennes de but

USA

DREYER, Pam

---

Shots on Goal

Team

1 p

2 p

3 p

Final

Shots on Goal

CAN

15

7

7

29

Tirs au but

USA

8

9

18

35

---

Referee/Arbitre

Andersson, Matz

Linesmen/Juges des lignes

Haapanen, Eeva Lundholm, Lars

---

Attendance/Assistance