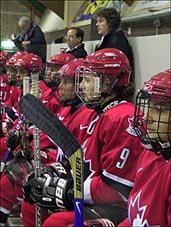 Canada's National Women's Team opened the 2003 4 Nations Cup with a 6-1 win over Sweden, in front of a disappointed but still enthousiastic reported standing room only crowd of 832
The line of Olympians Danielle Goyette, Hayley Wickenheiser and Kelly Béchard were off to the races right away. Wickenheiser converted a terrific Goyette feed through the crease at 0:50 to give Canada an early lead. Almost six minutes later, at 6:44, the two combined again as Goyette took the puck out of the corner and found Wickenheiser alone beside the net, and Canada's #22 fired it past Swedish star netminder Kim Martin.
Gillian Apps made the score 3-0 for Canada in the middle frame, on a Cherie Piper pass. Backchecking led to a Canadian goal after a Swedish turnover in the neutral zone. Gina Kingsbury carried the puck into Sweden's end and fed rookie Carla MacLeod, pinching in from the point, who made it 4-0, scoring in her first game with the senior women's team.
A shorthanded marker early in the final frame by Jennifer Botterill, on a Jayna Hefford feed, made it 5-0 for the visiting side. Sweden's Maria Rooth stole the puck from a Canadian defender, went in alone and slid the puck under Charline Labonté to avoid the shutout. Delaney Collins added a marker as Canada went on to a 6-1 win.
There won't be along wait for Canada's next game, as it comes on Thursday, November 6th, when Canada and the U.S. will write yet another chapter in their longstanding series of thrilling women's hockey games, in Skövde. 4 Nations Cup action continues through Sunday, November 9th. Canada has captured six of the seven Nations Cups since the inception of this event in 1996.
| | | | | | |
| --- | --- | --- | --- | --- | --- |
| Box Score | CAN | | | | |
| Compte | SWE | | | | |
First Period/Première période
Scoring/Buts:
00:50 CAN WICKENHEISER (GOYETTE, BÉCHARD)
06:44 CAN WICKENHEISER (GOYETTE, BÉCHARD)
Penalties/Pénalités:
03.16 2 min CAN 12. DUPUIS, Lori SLASH
13.05 2 min CAN 15. GOYETTE, Danielle KNEE
14.04 2 min CAN 4. KELLAR, Becky HOOK
Second Period/Deuxième période
Scoring/Buts:
25.18 CAN APPS (PIPER)
33.28 CAN MACLEOD (KINGSBURY)
Penalties/Pénalités:
26.34 2 min SWE 3. NEVALAINEN, Frida HOOK
30.00 2 min SWE 4. ASSERHOLT, Jenni ROUGH
37.49 2 min CAN T. Team CAN TOO-M
38.51 2 min SWE T. Team SWE TOO-M
Third Period/Troisième période
Scoring/Buts:
43.33 CAN BOTTERILL (HEFFORD) SH1
46.49 SWE ROTH (HOLST) SH1
51.56 CAN COLLINS (PIPER)
Penalties/Pénalités:
42.59 2 min CAN 12. DUPUIS, Lori HO-ST
44.01 2 min SWE 28. RUNDQVIST, Danijela BODY-CH
45.01 2 min SWE 6. MALMSTRÖM, Johanna BODY-CH
51.22 2 min CAN 22. WICKENHEISER, Hayley ROUGH
51.22 2 min SWE 28. RUNDQVIST, Danijela BODY-CH
Goaltenders

CAN

LABONTÉ, Charline

Gardiennes de but

SWE

MARTIN, Kim

---

Shots on Goal

Team

1 p

2 p

3 p

Final

Shots on Goal

CAN

13

23

23

59

Tirs au but

SWE

10

4

5

19

---

Referee/Arbitre

Persson, Sören

Linesmen/Juges des lignes

Flödén, Annica, Åreng, Sebastian

---

Attendance/Assistance

832