JANUARY 31 - FEBRUARY 2, 2001
DENVER, CO
Canada's National Women's Team played arch-rivals, Team USA in a two-game TSN Challenge match up. Game one was on January 31 in Red Deer, AB, while game two went February 2 in Denver, CO, site of the 2001 NHL All-Star game.
Canada loses this year's TSN Challenge after suffering a second loss to the USA. The Americans posted their second straight come from behind victory taking home the TSN Challenge in front of the home crowd in Denver, Colorado.
The women's team's next challenge will be going for gold at this year's Women's World Hockey Championship in early April.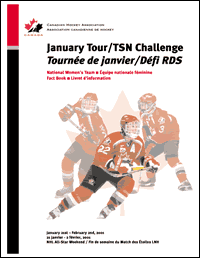 Click Here to download a PDF version
of the 2001 TSN Challenge Fact Book
TOUR VS.SWEDEN
JANUARY 22- 29, 2001
ALBERTA/BRITISH COLUMBIA
Canada's National Women's Team faced Sweden in a five-game tour that was played in British Columbia and Alberta in January, 2001.
Canada's National Women's Hockey Team closed out a five-game series against Sweden Monday night, with a convincing 9-2 victory in Golden, BC in front of an enthousiastic sell-out crowd. Canada won all five games by a combined score of 33-3 in front of over 13 000 fans.
TSN Challenge
Game 2 - Feb. 2, 2001
Denver, CO
1st Period
04:15 USA Wendell (King, Looney)
07:58 CAN Brisson (Botterill)
16:37 CAN Wickenheiser (Benoit-Wark, Small)

2nd Period
14:09 USA Darwitz (Granato, Ruggiero)

3rd Period
13:05 USA Bye (Chu)
Final: CAN 2 USA 3
Game 1 - Jan. 31, 2001
Red Deer, AB
First Period
05:02 - CAN - Wickenheiser (West)

Second Period
19:17 - USA- Holmes (Ruggiero, Chu)

Third Period
00:26 - USA - King
03:52 - CAN - Campbell (Chartrand)
07:27 - USA - Brodt (King)
08:07 - CAN - Hefford (Benoit-Wark, Botterill)
12:05 - CAN - Bechard (Brisson)
15:34 - USA - Mleczko (King)
19:39 - USA - Ruggiero
Final: CAN 4 USA 5