PETROV SCORES WINNER LATE TO LEAD RUSSIA TO WSHC BRONZE
TORONTO, Ont. – Evgeny Petrov scored the winner with just 71 seconds remaining, lifting Russia to a 4-2 win over Korea on Saturday afternoon and the bronze medal at the 2013 World Sledge Hockey Challenge.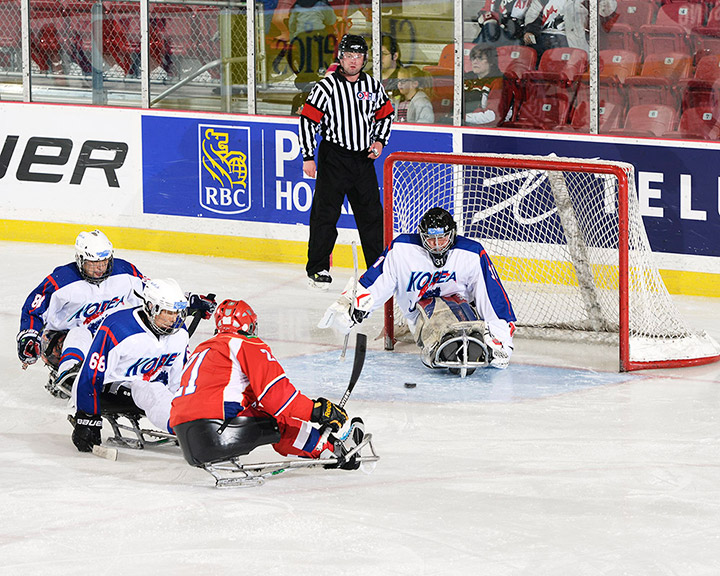 It is the second consecutive bronze for the Russians at a major international tournament; they took third place at the 2013 IPC Sledge Hockey World Championship last April in Korea.
Dmitriy Lisov had a pair of goals and Alexey Amosov added one for Russia, which won despite going more than 20 minutes between shots on goals, spanning from late in the first period to early in the third.
Yong-Min Lee and Young-Sung Kim scored the goals for Korea, which finished winless in its first World Sledge Hockey Challenge appearance, outscored 25-6 in five games, although it had its chances against the Russians on Saturday.
It was the Koreans who struck first, with Lee going low along the ice to the far side past Russian goaltender Mikhail Ivanov just 5:24 in. It was first time in the tournament the Asian side had opened the scoring, and scored in the first period.
Amosov pulled Russia even less than four minutes after Lee's goal, and Lisov gave the Russians their first lead not even a minute after that, but Kim finished off a three-goals-in-1:41 spurt by jamming a loose puck past Ivanov at 10:53 to make it a 2-2 game.
After the wild start the defences took over, with the two teams combining for just two shots in the second period, both by Korea, leaving the Russians as just the 10th team in tournament history to go an entire period without a shot on goal.
The defensive struggle continued late into the third period before, with overtime looming, Petrov beat Korean netminder Man-Gyun Yu to give Russia the lead for good with 1:11 left.
Lisov added his second into an empty net with one second to go to round out the scoring.
Konstantin Lobanov earned the win in the Russian goal, taking over for Ivanov to begin the second period and turning aside all six shots he faced over the final 30 minutes.
- - -