THREE-GOAL FIRST PERIOD LEADS CANADA TO FIFTH WSHC GOLD MEDAL
TORONTO, Ont. – Billy Bridges (Summerside, P.E.I.) and Greg Westlake (Oakville, Ont.) scored goals 32 seconds apart in a three-goal first period as Canada's National Sledge Team won the gold medal at the 2013 World Sledge Hockey Challenge with a 3-1 win over the United States on Saturday night.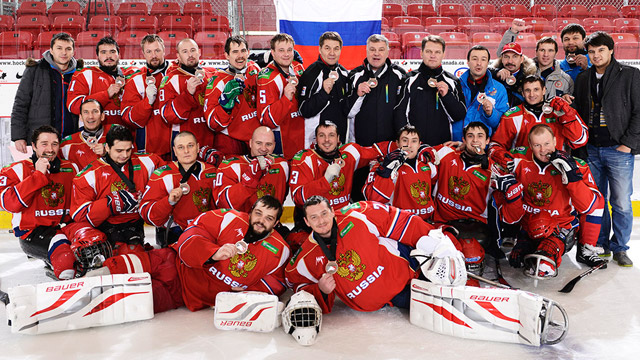 It is the fifth time Canada has won gold at the tournament; it took home the top prize in 2007, 2008, April 2011 and November 2011, beating the Americans in the last of those gold medal victories.
Adam Dixon (Midland, Ont.) also scored for Canada, which did all of its scoring in a 3:52 span of the first period, the second time in four days it scored three first-period goals against the Americans.
Brad Bowden (Orton, Ont.) added two assists in the win.
Josh Pauls scored the lone goal for the U.S., which failed in its attempt to win back-to-back World Sledge Hockey Challenge gold medals, and was left with silver for the second time in seven appearances.
After an early push from the Americans, it was Canada that opened the scoring when Dixon's low shot from the point eluded U.S. goaltender Steve Cash just past the nine-minute mark of the first period.
Bridges doubled the lead at 12:23, walking in and roofing a shot just under the crossbar on Cash, and helped set up Westlake for the 3-0 goal just over a half-minute later, starting the tic-tac-toe passing play that ended with the Canadian captain's fifth goal of the tournament.
The goal and assist leave Bridges with 299 career points with the national team.
Down three goals to the Canadians after one period for the second time in the tournament, the U.S. pushed back in the middle frame, holding Canada to just three shots on goal and getting on the board thanks to Pauls' unassisted effort at 5:51.
But that would be the lone puck to beat Canadian netminder Corbin Watson (Kingsville, Ont.), who needed to make just one save in the final period, finishing with a tournament-best .922 save percentage in three games.
Canada now owns two of the three most prestigious titles in international sledge hockey, with its World Sledge Hockey Challenge gold medal joining the IPC Sledge Hockey World Championship gold it won last April in Goyang, Korea.
It will go for a sweep of all three next March when the puck drops at the 2014 Paralympic Winter Games in Sochi, Russia.
- - -
› Summary