PAULS SCORES TWICE, FARMER ADDS THREE POINTS AS U.S. ADVANCES TO WSHC FINAL
TORONTO, Ont. – Josh Pauls scored twice to lead the way as the United States advanced to the gold medal game at the 2013 World Sledge Hockey Challenge with a 4-1 semifinal win over Russia on Thursday afternoon.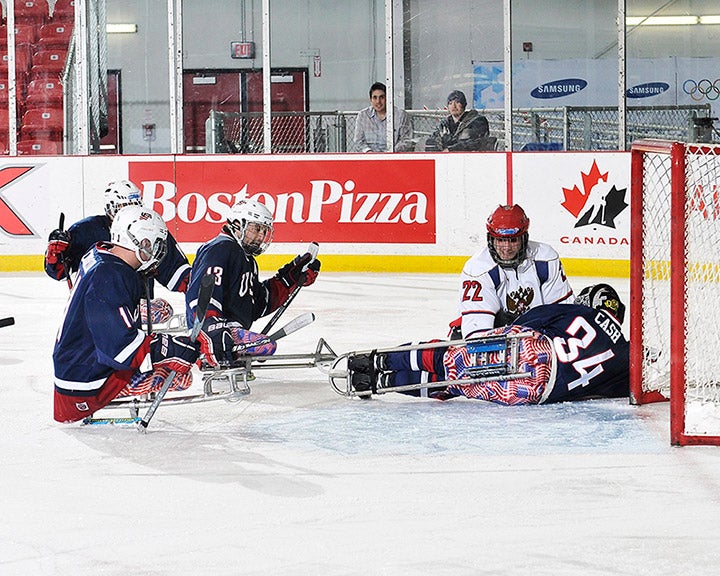 The U.S. is into the final for the fifth time in six years, and will have a chance to defend the gold medal it won 12 months ago in Calgary, Alta. The Americans will face the winner of the late semifinal between Canada and Korea in Saturday's final (7:30 p.m. ET, TSN2).
Paul Schaus and Declan Farmer had the other goals for the U.S., which had just a 15-hour turnaround following its 4-1 preliminary round loss to the Canadians on Wednesday night.
Farmer added two assists to his goal for a three-point afternoon.
Nikolay Terentyev, with his fifth goal in two games, was the lone Russian to put his name on the scoresheet, ending the U.S. shutout bid with a power play goal with just 91 seconds remaining.
After a fast-paced but scoreless first period, the U.S. struck quickly in the second, with Pauls finishing off a breakaway by roofing a shot over the glove of Russian netminder Mikhail Ivanov just 19 seconds in.
Schaus doubled the lead at 7:33, jamming a loose puck past a sprawling Ivanov, and Pauls got his second just under four minutes later, beating Ivanov to the near post for a 3-0 advantage after two periods.
Farmer gave the Americans their biggest lead 5:33 into the third period, scoring on the power play to make it 4-0, before Terentyev scored a consolation goal for the Russians, wiring a shot just under the crossbar on a man advantage in the dying minutes.
Both teams used two goaltenders; Steve Cash got the start for the U.S. before giving way to Jen Yung Lee with just over five minutes to go, while Konstantin Lobanov replaced Ivanov in the Russian goal late in the second period.
The Russians will wait for the result of Thursday's late semifinal to find out who they face in Saturday afternoon's bronze medal game (1 p.m. ET).
- - -
› Summary