TERENTYEV'S FOUR GOALS LEAD RUSSIA TO FIRST WSHC WIN
TORONTO, Ont. – Nikolay Terentyev scored the game's first two goals and last two goals, and added an assist in between, helping Russia to its first-ever win at the World Sledge Hockey Challenge, 9-1 over Korea on Wednesday morning.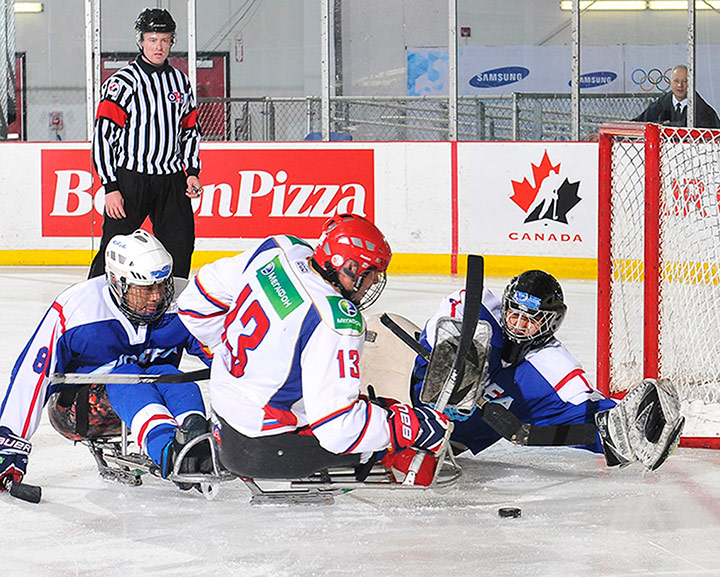 Terentyev is the fourth player to score four goals in a game at the tournament, joining Norway's Rolf Einar Pedersen, who did it twice, and Helge Bjoernstad, and the 11th to record at least five points.
Ilia Volkov, Alexey Amosov, Konstantin Shikhov, Andre Dvinyaninov and Ruslan Tuchin had the other goals for Russia (1-2), which wrapped up third place in the preliminary round and will face the loser of Wednesday night's Canada-U.S. game in Thursday's semifinals.
Dmitriy Lisov added four assists in the win, while Evgeny Petrov had three helpers. Ten of the 15 Russian skaters recorded at least one point.
Jong-Ho Jang had the only goal for Korea (0-3), which will face the Canada-U.S. winner in the semifinals. The Koreans were outshot 26-6 by Russia, and 85-24 in their three preliminary round games.
Terentyev started the scoring midway through the first period, and added his second exactly three minutes later before helping set up Volkov's goal in the final minute of the opening frame for a 3-0 Russian advantage after one.
The Koreans looked to be back in the game when Jang struck just 1:13 into the second period, but Amosov and Shikhov scored 87 seconds apart to put the Russians firmly in control through two periods.
The offensive onslaught continued in the final 15 minutes – first it was Dvinyaninov at 2:05, followed by Tuchin at 5:04 for a 7-1 lead. Terentyev finished his hat trick with 1:04 left before capping the scoring with his fourth goal in the dying seconds.
Pedersen and Bjoernstad were the last two players to score four goals in a game, both doing it Nov. 18, 2008 against Japan, while Greg Westlake (Oakville, Ont.) was the last to record at least five points, scoring twice and adding three assists in Canada's semifinal win over Japan on Dec. 6, 2012.
› Summary