CANADA OUTLASTS RUSSIA, IMPROVES TO 2-0 AT WSHC
TORONTO, Ont. – Billy Bridges (Summerside, P.E.I.) scored twice, including the game-winner, and added two assists to help Canada's National Sledge Team hold off a pesky Russian team in a 5-3 Monday morning at the 2013 World Sledge Hockey Challenge.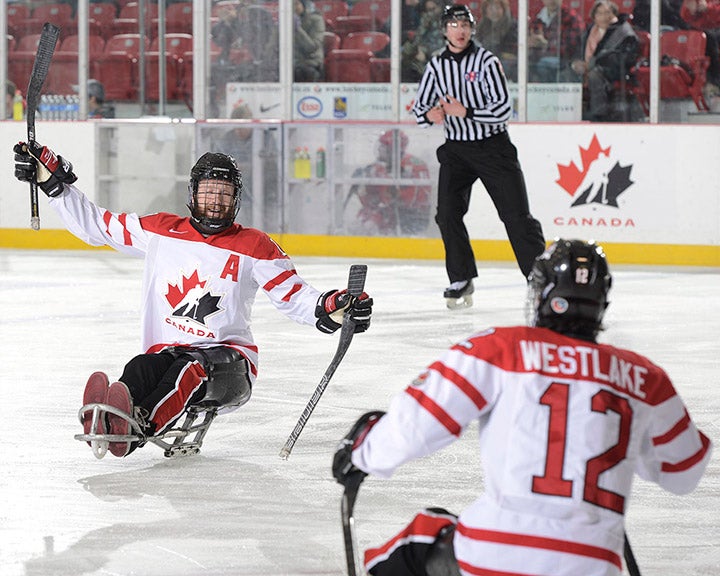 Bridges' four points give him 295 for his career; he is now just five points from becoming the first to record 300 for the national team since Hockey Canada took over the sledge hockey program in 2004.
Adam Dixon (Midland, Ont.), Kevin Rempel (Vineland, Ont.) and Tyler McGregor (Forest, Ont.) all scored first-period goals for Canada (2-0), which can finish no worse than second in the preliminary round after its 20th straight round robin win.
Evgeny Petrov, Dmitriy Lisov and Konstantin Shikhov scored for Russia (0-2), which opened the scoring for the second game in a row but remained without a victory through two days.
Unlike Sunday, when both games were without a goal through one period, the scoring started early on Monday, with Petrov snapping a shot over the glove of Canadian netminder Benoit St-Amand (St-Hubert, Que.) just 4:22 in.
But the opening frame would be all Canada after that. Dixon tied the game from the point on the power play, and Rempel and McGregor, on a gorgeous under-the-sled move, scored 23 seconds apart to give the Canadians the lead for good.
Lisov pulled one back for the Russians early in the second period, sneaking a shot past St-Amand, but Bridges hammered home the eventual game-winner on another Canadian power play to restore the two-goal lead after two periods.
Bridges' second gave Canada even more breathing room just 46 seconds into the third period, before Shikhov rounded out the scoring for the Russians.
The Canadians outshot Russia in every period, finishing with a 24-15 advantage overall.
Both teams are off Tuesday before finishing the preliminary round with games Wednesday; the Russians will meet Korea in an early puck drop (10 a.m. ET) before Canada and the U.S. clash in a rematch of the last two gold medal games in the night cap (8 p.m. ET).
- - -
› Summary