SALAMONE SCORES WINNER LATE, U.S. BEATS RUSSIA TO OPEN WSHC
TORONTO, Ont. – Alexi Salamone broke a 1-1 tie with just 1:37 remaining, leading the United States to a 2-1 win over Russia in the opening game at the 2013 World Sledge Hockey Challenge on Sunday afternoon.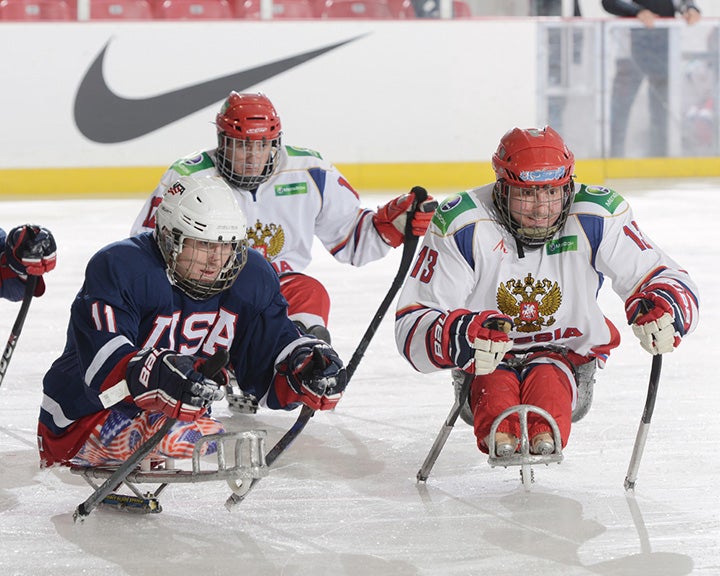 It was the first-ever game at the tournament for the Russians, who are gearing up to host the Paralympic Winter Games next March, and almost opened with a win over the defending gold medallists.
Tyler Carron scored the other goal for the U.S. (1-0), pulling the Americans even late in the second period after Dmitriy Lisov had opened the scoring for Russia (0-1) in the first minute of the middle frame, against the flow of play.
The U.S. controlled the puck in the first period, outshooting the Russians 7-2 and keeping play in the offensive zone for long stretches of the opening 15 minutes.
But it would be Russia scoring first; Lisov gathered the puck in the slot before snapping a shot past the outstretched blocker of U.S. goaltender Steve Cash just 67 seconds after the puck dropped to start the second period.
Carron got the U.S. back on even ground on the final rush of the middle frame, going low under the sled of Lobanov to tie the game heading to the final period.
Both teams had point-blank chances in the third, but only Salamone could convert; his knuckling shot found its way under Lobanov at 13:23 to give the U.S. the lead for good, improving its all-time preliminary round record to 11-8.
The Americans finished with a 15-11 advantage in shots on goal.
Both teams are back on the ice Monday; the U.S. takes on Korea in the late game (5 p.m. ET), while Russia meets Canada in an early start (10 a.m. ET).