WESTLAKE'S THREE POINTS HELP CANADA TO OPENING WIN OVER KOREA
TORONTO, Ont. – Greg Westlake (Oakville, Ont.) scored once and added two assists to pace the offence as Canada's National Sledge Team opened the 2013 World Sledge Hockey Challenge with a 5-2 win over Korea on Sunday night.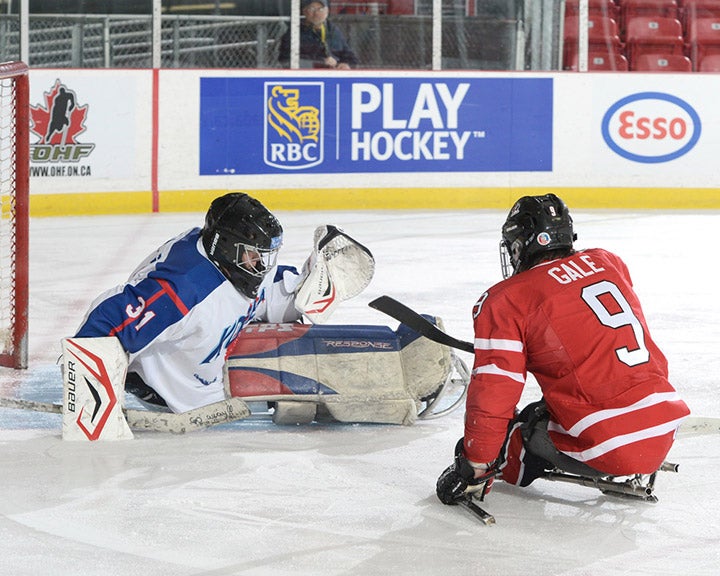 With the victory, the Canadians remain perfect all-time in preliminary round action at the tournament, improving to an unblemished 19-0 since the first puck dropped in 2007.
Brad Bowden (Orton, Ont.) and Adam Dixon (Midland, Ont.) chipped in with a goal and an assist each for Canada (1-0), which scored the game's first four goals and more than doubled the Koreans on the shot clock, 28-13.
Kevin Rempel (Vineland, Ont.) and Anthony Gale (Brampton, Ont.) had the other Canadian goals.
Seung-Hwan Jung and Young-Jae Cho scored for Korea (0-1), which came out on the losing end of its first-ever game at the World Sledge Hockey Challenge. Despite the loss, the Koreans became just the third team in 20 tournament games to score more than one goal against the Canadians.
After a scoreless first period, Bowden broke the ice 6:24 into the second, going high over the glove of Korean goaltender Man-Gyun Yu on a breakaway while the teams were skating at four-on-four.
Rempel doubled the lead before the end of the second period with a deft tip of a Westlake shot, and Westlake got one of his own four minutes into the third for a 3-0 advantage.
Dixon made it 4-0 with a two-hopper just less than four minutes after Westlake's goal, chasing Yu from the Korean goal. In all, Yu stopped 21 of 25 shots in just under 38 minutes of work.
Jung ended the shutout bid of Canadian goaltender Corbin Watson (Kingsville, Ont.) on a Korean power play, snapping a shot just under the crossbar, but Gale banked one off new goaltender Geun-Hwa Yoo from behind the net 1:13 later to restore the four-goal advantage.
Cho capped the scoring with 2.6 seconds left, beating Watson through a screen.
The Canadians have a tight 14-hour turnaround before their second round robin game; they face Russia on Monday morning (10 a.m. ET), while Korea tries again for win No. 1 with it takes on the United States in the evening game (5 p.m. ET).
- - -
› Summary