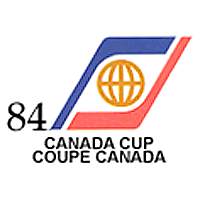 TOURNAMENT OVERVIEW
The 1984 Canada Cup featured some major changes. Most obvious was the inclusion of West Germany instead of Finland. The Germans earned the right based on their higher seeding at the previous World Championship.
However the Germans were clearly overmatched, going 0-4-1 in the round robin. That record was still good enough to finish 5th overall, as the disappointing Czechoslovakian squad had a tournament to forget, finishing in 6th place.
The American team made quick strides under the cagey guidance of Head Coach Bob Johnson. Flanked by NHL stars such as Tom Barrasso, Joe Mullen and Bob Carpenter, and with the defection of dual-citizen Bryan Trottier from Team Canada to Team USA, the Americans iced their strongest Canada Cup team to date.
The two finalists from the 1981 Canada Cup (Canada vs. USSR) experimented with their line-ups. Canada had only 5 returnees from their 1981 team. The Soviets were left scrambling to find a replacement for goaltending legend Vladislav Tretiak, who had retired following the 1984 Olympics. An equally damaging blow was the loss of defenseman Viacheslav Fetisov, who was injured in a car accident.
Backed by new goaltender Vladimir Myshkin, the Soviets became the first team to post a perfect record through the round robin, including a convincing 6-3 win over Canada. Canada had struggled through the round robin, finishing 4th. The Americans impressed, and quietly, Sweden, led by the red hot line of Håkan Loob, Kent Nilsson, and Thomas Steen had a strong showing.
Canada's 4th place finished set up a semi-finals showdown with the Soviets. Team Canada elevated its game and battled the Soviets into overtime tied at 2. The defining moment of the series came half way through the overtime period. The Soviets nearly ended the game when speedy forwards Vladimir Kovin and Mikhail Varnakov broke in two-on-one with only Paul Coffey back to defend. Coffey broke up the play masterfully, and quickly went on the attack. After gaining the zone, Coffey regained the puck and fired a shot on net that was deflected by Mike Bossy to end the classic game, and move Canada once again to the finals.
Meanwhile, the Swedes beat the Americans 9-2 to set up the first ever Canada-Sweden Cup finals. Canada took the best-of-three series 2 games to none thanks to the play of tournament MVP John Tonelli and the Edmonton Oilers' combination of Paul Coffey and Wayne Gretzky.