Canada loses 3-2 in a shootout to Sweden at world championship quarter-finals



STOCKHOLM, Sweden – Canada was eliminated in the quarter-finals of the IIHF World Championship for a fourth straight year with a 3-2 shootout loss to host Sweden on Thursday.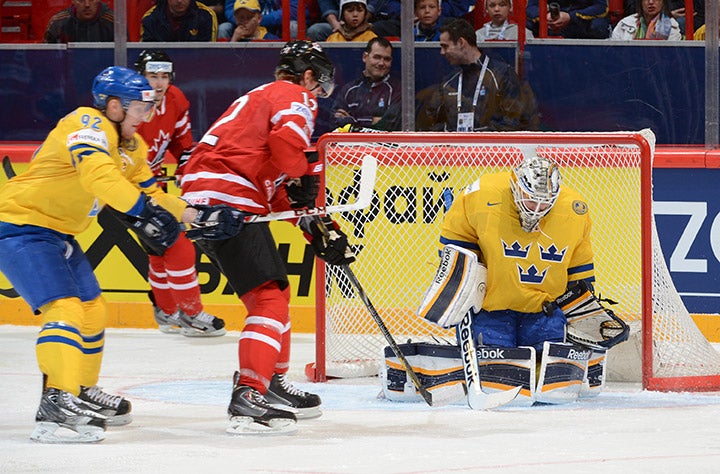 Fredrik Pettersson scored the winner in the fourth round of the shootout as Sweden moved on to a semifinal meeting with archrival Finland.
"It's the worst feeling obviously," said Canada goaltender Mike Smith. "Every time we put the Canada sweater on you are expected to win. This is tough to take."
Trailing 1-0, Nicklas Danielsson scored a pair of power-play goals in the third period to give the hosts a 2-1 lead. Canada's Claude Giroux tied the game just over a minute after Danielsson's second goal.
Steven Stamkos of the Tampa Bay Lightning scored a second-period power-play goal.
Smith of the Phoenix Coyotes stopped 30 shots in the loss, while Jhonas Enroth of the Buffalo Sabres made 39 saves for the win.
"Third period, we weren't on top of them as much as we could be," Canada coach Lindy Ruff said. "Their defending was a lot better. They made sure they had people back and didn't get caught through the neutral zone.
"Both teams defended well through the neutral zone and it made it an offensive or defensive zone game. In the end it turned into a special teams' game."
Jacob Markstrom made a pair of saves in overtime while Enroth dealt with an equipment issue.
Canada extended its run of quarter-final losses in this tournament to four straight years. Canada last advanced to the semifinals in 2009 en route to a silver medal with Ruff as coach.
"It doesn't get any easier," said Canada forward Matt Duchene, who has been in the lineup for three of those losses. "Third time losing for me losing in this game and the fourth time for a couple of other guys. It hurts.
"I can't believe we lost. I thought we had the team to do it this year. It just shows you one game, anyone can win. We don't like that penalty shot rule, that's for sure. It sucks we couldn't keep playing overtime."
In other quarter-finals, Switzerland extended its unbeaten run in the tournament to eight wins with a 2-1 win over the Czech Republic. They'll face the United States, an 8-3 winner in Helsinki over a Russian team that had Alex Ovechkin in the lineup, in Saturday's semifinal.
Finland edged Slovakia 4-3 in Helsinki's other quarter-final.
The semifinals and Sunday's bronze- and gold-medal games are in Stockholm.
Canada had beaten the host country 3-0 in the preliminary round, but that was before the arrival of Swedish forwards Henrik and Daniel Sedin and defenceman Alex Edler from the Vancouver Canucks.
The Swedes had more swagger in their step with the additions, although they'd been heaping the pressure on Canada by calling them the favourite to win.
Canada lost captain Eric Staal to a knee-on-knee collision with Edler in Sweden's zone at 15:52 of the first period. The Carolina Hurricanes forward went down writhing in pain and clutching his right knee. He needed assistance off the ice and did not return.
Edler was served a major and a game misconduct and threw his stick like a harpoon when he left the ice.
Ruff said he didn't have an update on Staal's status.
"It had some impact because there was a lot of shuffling going on", Ruff said. "Still we had our opportunities. One of the turning points was we built a 1-0 lead and if Steve scores on the breakaway, it might have given us a little bit of cushion. We didn't. We let them hang around."
Giroux atoned for his cross-checking penalty that allowed Danielsson to push Sweden up 2-1 at 9:35 of the third period by evening the game at 10:50.
Andrew Ladd's hard check along the boards knocked the puck loose towards the net. The Winnipeg Jets forward retrieved it and fed Giroux from behind the goal-line.
Danielsson scored power-play goals on a pair of slapshots through traffic from just inside the blue-line in the third period.
His second beat Smith between the pads and the other the eluded Canadian's glove. Canadian defenceman Dan Hamhuis was serving a delay of game minor on Danielsson's first goal of the period.
Canada appeared to go up 2-0 at the end of the second period on a last-second shot from recent addition P.K. Subban, but referees determined via video review that time expired before the puck crossed the goal-line.
"That's why we have the instant replay. It wasn't a goal obviously I guess," Subban said. "I thought we did enough things to win this game today. I think what it comes down to is we had opportunities early in the game to put them away. We didn't capitalize."
Canada scored first with a power-play goal from Stamkos 45 seconds into the second period. Ladd teed up defenceman Stephane Robidas at the blue-line and Stamkos changed speed on the puck with a re-direct to slide it past Enroth's pad.
Smith and Enroth traded showy saves in the second period. Enroth stopped an all-alone Stamkos charging in off a stretch pass from Claude Giroux. Smith quickly covered the gap on a Johan Fransson from the faceoff circle.
While Canada didn't score again in the second period, its puck management improved over the first period. They supported each other better in the defensive and neutral zones and outshot the host country 16-11 in that period.
Smith's quick pad off an Oscar Lindberg re-direct early in the first period kept the Swedes off the scoreboard. Simon Hjalmarsson missed getting the puck to Gabriel Landeskog on an odd-man rush midway through the period.
The man advantage during the Edler first-period major was negated when Andrew Ladd took a hooking major halfway through the five minutes. Canada got another 20 seconds out of that major to start the second period with an extra attacker and Stamkos made good on it.
Subban, a defenceman with the Montreal Canadiens, played his first game of the tournament after his arrival Tuesday and was paired with Jay Harrison.
Canada added two defenceman after the start of the tournament to bring its blue-line total to nine players. Hamhuis arrived Saturday with his Swedish Canuck teammates.
Canada brought 12 forwards, so eight defencemen played Thursday. T.J. Brodie of the Calgary Flames was scratched.
Notes: Switzerland, coached by Sean Simpson of Brampton, Ont., will play in the semifinal for the first time since 1998 … St. Louis Blues rookie forward Jaden Schwartz joined the Canadian team the previous day as insurance against injury up front
Game Information
Game Number
60

Round
Quarterfinal
Arena
Globe Arena

City, Country
Stockholm, SWE

Date
Thursday, May 16, 2013

Time
02:15 p.m. ET

| Box Score/Compte | 1 | 2 | 3 | OT | SO | Final |
| --- | --- | --- | --- | --- | --- | --- |
| CAN | 0 | 1 | 1 | 0 | 0 | 2 |
| SWE | 0 | 0 | 2 | 0 | 1 | 3 |
Goals & Penalties/ Buts et pénalités
First Period/Première période
Goals/Buts:
None/Aucune

Penalties/Pénalités:
15:52 SWE Alexander Edler (Kneeing/Donner du genou)
15:52 SWE Alexander Edler (Game Misconduct/Extrême inconduite)
18:32 CAN Andrew Ladd (Hooking/Accrocher)


Second Period/Deuxième période
Goals/Buts:
00:45 CAN Steven Stamkos (Stephane Robidas, Andrew Ladd) PP/AN

Penalties/Pénalités:
06:20 CAN Steven Stamkos (Roughing/Rudesse)
06:20 SWE Joel Lundqvist (Roughing/Rudesse)
15:35 SWE Gabriel Landeskog (Holding/Retenir)


Third Period/Troisième période
Goals/Buts:
05:41 SWE Nicklas Danielsson (Henrik Sedin, Daniel Sedin) PP/AN
09:35 SWE Nicklas Danielsson (Daniel Sedin, Henrik Sedin) PP/AN
10:50 CAN Claude Giroux (Andrew Ladd)

Penalties/Pénalités:
04:56 CAN Dan Hamhuis (Delay of Game/Retarder le match)
09:06 CAN Claude Giroux (Cross Checking/Double-échec)


Overtime/Prolongation
Goals/Buts:
None/Aucun

Penalties/Pénalités:
None/Aucun


Shootout/Tirs de barrage
CAN Claude Giroux NO GOAL/AUCUN BUT
SWE Loui Eriksson GOAL/BUT
CAN Jordan Eberle GOAL/BUT
SWE Henrik Sedin NO GOAL/AUCUN BUT
CAN Matt Duchene NO GOAL/AUCUN BUT
SWE Daniel Sedin NO GOAL/AUCUN BUT
SWE Fredrik Pettersson GOAL/BUT
CAN Jordan Eberle NO GOAL/AUCUN BUT


Goaltenders/Gardiens de but
CAN
Mike Smith

SWE
Jhonas Enroth (out OT/01:18) (in OT/03:37)
Jacob Markstrom (in OT/1:18) (out OT/03:37)

| Shots on Goal/Tirs au but | 1 | 2 | 3 | OT | SO | Total |
| --- | --- | --- | --- | --- | --- | --- |
| CAN | 16 | 16 | 8 | 3 | 0 | 43 |
| SWE | 6 | 11 | 12 | 3 | 1 | 33 |