All-Access Blog: Travis Crickard
The National Men's Under-18 Team video coach reflects on the preliminary round and looks ahead to the start of the playoffs and what is to come at the 2021 IIHF U18 World Championship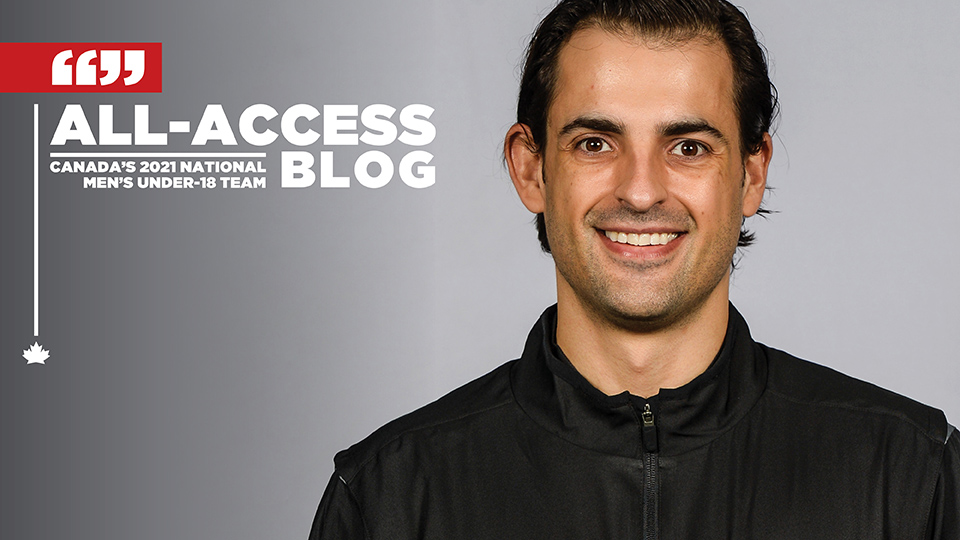 Sunday, May 2
Hello from Texas!
"Every single time you put the Maple Leaf on, you are going to get the very best from other countries."
That is what Alan Millar, our director of player personnel, told us during a team meeting in the preliminary round. It was a message that was invigorating, yet a strong reminder to have humility and never permit our competition to dictate how we play.
Today is a preparation day as we practice and meet to reflect upon our preliminary-round performance and prepare for tomorrow's quarterfinals. Although it is short-term competition, our preliminary round performance was somewhat similar to a long-distance event. We started fast to establish strong positioning ahead of opponents, then settled into a pace that offered the opportunity for continued improvement.
It is safe to say that Sweden had an off night in our first game. It is a model hockey country and as the preliminary round progressed, the Swedes found their game. In our second game, Latvia challenged us with consistent tenacity and a desperation to win. I think we all left that game with a tremendous amount of respect for the Latvians, who have some of the greatest hockey fans on the planet. As the preliminary round continued we faced and defeated a small and speedy Swiss group 7-0, and triumphed over a big and skilled Belarusian team 5-2.
As we transition to the medal round, we simultaneously shift away from the intimate Children's Health StarCenter in Plano to the larger, multi-purpose Comerica Center in Frisco. Playing at the StarCenter offered our athletes a chance to get in touch with their younger selves and remember what it was like to play in a minor hockey arena before they embarked on their junior hockey careers. Although it was vastly different than competing in CHL or Junior A arenas, I have to send a special shout out to the selfless efforts of Benoit Roy, Kurt Keats, A.J. Murley, Kevin Elliot and Doug Stacey for making the Team Canada dressing room set-up and environment look and feel first class.
With the Czech Republic in our way, the excitement of win-or-go-home hockey is something our players and staff have longed for. Because of the COVID-19 pandemic, most of our players have not had the opportunity to engage in competition of this magnitude for a year or more. As a result, we intend to approach the game with trust for each other and belief in our game plan.
Thank you to everyone back home in Canada and abroad who is supporting us. As time inches closer to tomorrow's game, we feel your support and could not be prouder to represent our hometowns and beautiful country.
Travis