All-Access Blog: Logan Stankoven
The Kamloops Blazers forward talks about his preparations for the IIHF U18 World Championship, creating chemistry after quarantine, and embracing the opportunity to wear the Maple Leaf in Texas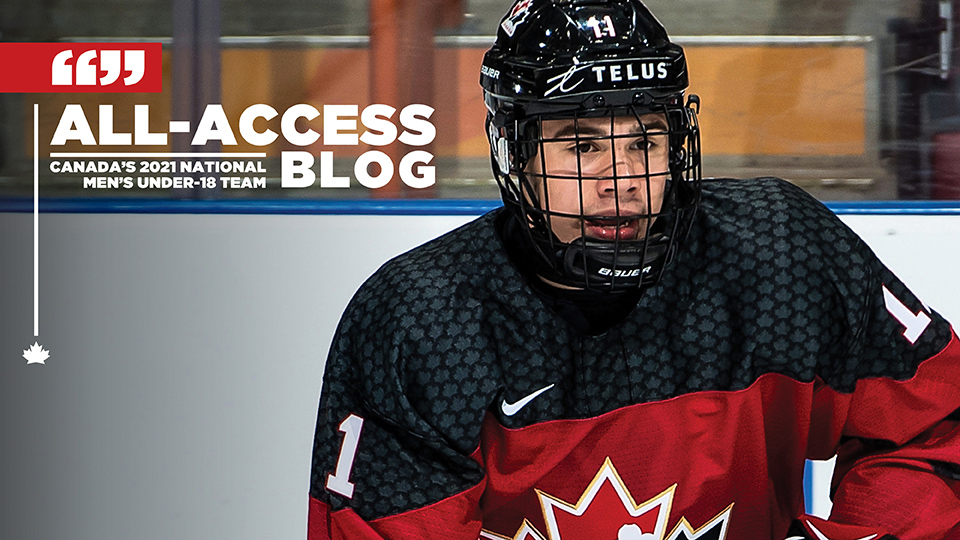 Sunday, April 25
This is something I've been looking forward to for quite a long time now…. the IIHF U18 World Championship.
The thought of wearing the Maple Leaf on my jersey has kept me hungry and excited over the extended offseason. It has pushed me to become stronger on the ice and in the gym. I have focused a lot on my foot speed and explosiveness, and I feel it has really paid off. I cannot wait to bring this new edge to my game to the U18 worlds. What I'm most looking forward to is getting to know and play with different players from all across our country and the lasting friendships I will create.
The quarantine was long, but the staff did a great job keeping us connected through the daily Zoom meetings, workouts and study sessions. The first few practices with the team have been fast-paced and really focused on shaking the rust off after our quarantine. Creating chemistry and getting a feel for each other is so important in these short-term competitions and that's something the coaching staff has really stressed. Each player on this team brings different skill sets and intangibles, and I believe our team can do something special.
There have been a lot of ups and downs and many unknowns over the past 14 months, but to have the opportunity to represent Canada through this unprecedented time is something I'm very thankful for. I cannot thank my family enough for all they've done for me over the years; they've given me every opportunity to succeed in life. I hope to make them proud by bringing home the gold.
I know there are thousands of other players in Canada who would do anything to be in the position I am in right now, so I'm not going to take anything for granted. I'm going to do everything in my power to help the team win no matter the role I'm put in. At the same time, I want to enjoy the whole experience and come away from this tournament both a better player and person.
Can't wait to get things started. The support from everyone back home is greatly appreciated!

Logan