WATSON SCORES TWICE IN FOUR-GOAL THIRD, WHITE GETS FIRST WIN AT U18 CAMP
TORONTO, Ont. – Spencer Watson (London, Ont./Kingston, OHL) scored twice, 2:40 apart as part of a four-goal third period, as White earned the first victory at Canada's National Men's Summer Under-18 Team selection camp, 7-4 over Red on Saturday night.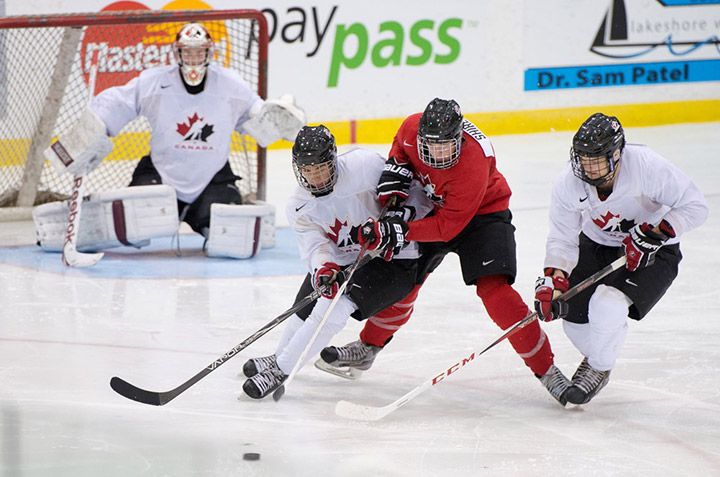 Robby Fabbri (Mississauga, Ont./Guelph, OHL) added a goal and two assists for White, which coughed up a two-goal lead early in the third period before rebounding to score four of the game's final five goals.
After Eric Cornel (Kemptville, Ont./Peterborough, OHL) opened the scoring for Red just 3:23 in, goals from Roland McKeown (Listowel, Ont./Kingston, OHL) and Brendan Lemieux (Buckingham, Que./Barrie, OHL) gave White the lead heading to the first intermission.
The lone goal of the second period came off the stick of Fabbri, who found room over the shoulder of Red goaltender Mason McDonald (Halifax, N.S./Acadie-Bathurst, QMJHL) for a 3-1 lead through 40 minutes.
Collin Shirley (Saskatoon, Sask./Kootenay, WHL) got the Red comeback started 2:08 into the third period, snapping a shot past White netminder Payton Lee (Cranbrook, B.C./Vancouver, WHL), and Michael Dal Colle (Vaughan, Ont./Oshawa, OHL) tied it at 7:55, jamming home a loose puck in the White crease.
Watson's seeing-eye shot beat McDonald on a power play to give White the lead for good before the floodgates opened with just under six minutes to go, with both teams flexing their offensive muscle.
After Fabbri set up Watson for his second of the game to make it 5-3 at 14:11, Conner Bleackley (High River, Alta./Red Deer, WHL) made it a one-goal game just 23 seconds later, only to see Tanner MacMaster (Calgary, Alta./Camrose, AJHL) restore the two-goal advantage 19 seconds after that.
Joe Hicketts (Kamloops, B.C./Victoria, WHL) capped a wild third period with a late insurance goal for White, providing the final margin of victory.
All four goaltenders were busy, with both teams managing 35 shots on goal.
Brent Moran (Ottawa, Ont./Niagara, OHL) got the start for White before giving way to Lee midway through the second period, while Julio Billia (St-Léonard, Que./Chicoutimi, QMJHL) split the goaltending duties with McDonald for Red.
The teams are back on the ice Sunday at the MasterCard Centre on Sunday night (7 p.m. ET) for the second intrasquad game, before camp wraps up with a Monday matinee (11:30 a.m. ET).
From the selection camp, 22 players will be selected to represent Canada at the 2013 Memorial of Ivan Hlinka tournament, which opens Aug. 5 in Breclav, Czech Republic and Piestany, Slovakia.
Game Information
Game Number
Ex 01

Round
Exhibition
Arena
MasterCard Centre

City, Country
Toronto, Ont.
Date
Saturday, July 27, 2013

Time
19:10 p.m. ET

Attendance
-
Game Status
Final
| Box Score/Compte | 1 | 2 | 3 | Final |
| --- | --- | --- | --- | --- |
| RED | 1 | 0 | 3 | 4 |
| WHT | 2 | 1 | 4 | 7 |
Goals & Penalties/ Buts et pénalités
First Period/Première période
Goals/Buts:
03:23 RED Eric Cornel (Brendan Perlini, Rourke Chartier)
06:33 WHT Roland McKeown (Reid Duke)
14:25 WHT Brendan Lemieux (Reid Duke, Ryan Pilon)

Penalties/Pénalités:
10:57 RED Rourke Chartier (Slashing/Coup de bâton)
12:07 WHT Aaron Ekblad (Slashing/Coup de bâton)


Second Period/Deuxième période
Goals/Buts:
12:40 WHT Robby Fabbri (Nicolas Aubé-Kubel, Damian Bourne)

Penalties/Pénalités:
05:55 RED Jayce Hawryluk (Holding/Retenir)
15:31 RED Carl Neill (Slashing/Coup de bâton)


Third Period/Troisième période
Goals/Buts:
02:08 RED Collin Shirley (Jayce Hawryluk)
07:55 RED Michael Dal Colle (Brayden Point, Daniel Audette)
11:31 WHT Spencer Watson (Robby Fabbri) PP/AN
14:11 WHT Spencer Watson (Robby Fabbri)
14:34 RED Conner Bleackley
14:53 WHT Tanner MacMaster
17:48 WHT Joe Hicketts (Sam Bennett, Jared McCann)

Penalties/Pénalités:
10:41 RED Collin Shirley (Tripping/Fairé trebucher)


Goaltenders/Gardiens de but
RED
Julio Billia; Mason McDonald (in 2nd/10:31)
WHT
Brent Moran; Payton Lee (in 2nd/10:31)
| Shots on Goal/Tirs au but | 1 | 2 | 3 | Total |
| --- | --- | --- | --- | --- |
| RED | 12 | 12 | 11 | 35 |
| WHT | 11 | 9 | 15 | 35 |