GILL NAMED HEAD COACH
OF SUMMER UNDER-18 TEAM
An assistant coach with Canada's bronze medal-winning entry at last April's world championship, Todd Gill will be head coach of Canada's summer under-18 team for the Memorial of Ivan Hlinka in August. » more
CANADA 5 – FINLAND 4 OT
BRONZE MEDAL | SUN. APR. 22
Hunter Shinkaruk's hat-trick led Canada's National Men's U18 Team to their first bronze and fourth medal all-time at the 2012 IIHF Ice Hockey World U18 Championship after a 5-4 overtime win over the Finns.
CANADA 1 – UNITED STATES 2
SEMIFINAL| FRI. APR. 20
For the second year in a row, Canada dropped a one goal decision to the United States in semifinal action at the IIHF Ice Hockey U18 World Championship. Gemel Smith had the lone goal for the Canadians.
CANADA 4 – RUSSIA 2
QUARTER-FINAL | THU. APR. 19
Kerby Rychel scored twice, Matt Dumba and Felix Girard added singles and Matt Murray made 28 saves for the win as Canada punched its ticket to the semifinals at the U18 Worlds after a victory over the Russians.
CANADA 3 – UNITED STATES 5
PRELIMINARY | TUE. APR. 17
Matt Dumba and Hunter Shinkaruk finished with a goal and an assist each as the Canadians became the first team to score on the U.S., but Canada fell short and finished third in Group A with a 2-2 record.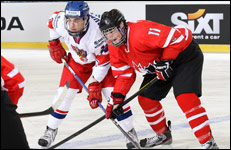 CANADA 6 – CZECH REPUBLIC 2
PRELIMINARY | MON. APR. 16
Brendan Gaunce scored twice and added an assist to lead Canada to a win over the Czechs. Scott Laughton, Sam Reinhart, Kerby Rychel and Matt Dumba added singles as Canada improved its record to 2-1.