GOLD MEDAL WINNING CANADIAN TEAM TO RETURN HOME FROM
2003 IIHF WORLD UNDER-18 HOCKEY CHAMPIONSHIP ON APRIL 24, 2003!
YAROSLAVL, RUSSIA – Canada's National Under-18 Team returns home on Thursday, after capturing a gold medal in it's second participation in the IIHF World Under 18 Hockey Championship, that was held in Yaroslavl, Russia. Canada secured the gold medal defeating Slovakia 3-0 on Tuesday.
Canada's National Under-18 Team was made up of players born in 1985, not involved in the playoffs in the CHL, university or Junior "A" leagues when the team was named on April 4th.
The team will arrive in Toronto and Montreal on Monday, April 24th from Frankfurt at 3:15 pm (Eastern) on Air Canada flight 873 at Terminal 1 in Toronto and at 11:30 am (Eastern) in Montreal on Air Canada flight 875. Most of the players and staff will be connecting from there on to their final destinations that are listed below. All times listed are local. » more
CANADA'S NATIONAL UNDER-18 TEAM CROWNED WORLD CHAMPIONS!
Team Canada, led by a 25 save shutout performance from goaltender Ryan Munce (Mississauga, ON), defeated Slovakia 3-0 to capture the 2003 World Under-18 Hockey Championship on Tuesday. The game was played in front of 8,700 spectators at Arena 2000 in Yaroslavl, Russia.
After a thrilling 2-1 overtime victory over the defending champions, Team USA in Sunday's semi-final, Canada was energized and ready for a tough Slovakian squad.
Toronto, ON's Anthony Stewart opened the scoring in the first period, converting a Patrick Coloumbe (St-Fabien, QC) pass at the 11:25 mark.
Shawn Belle of Edmonton, AB added to Canada's lead late in the second period after taking a Brennan Chapman pass and beating Slovakian goaltender Jaroslav Halak. Canada took a two-goal lead into the final period.
In the third, Ryan Getzlaf (Regina, SK) put the icing on the cake with a goal just over four and a half minutes in.
The win gives Canada their first World Under-18 title after participating for the first time in 2002.
CANADA U-18's ADVANCE
TO MEDAL ROUND
The men's Under 18 team has made it into the Medal round of the World Championships with two wins one tie and a loss. The team will battle Sweden next on Saturday April 19th, 2003 for a chance to make it to the semi-final round.
CANADA OPENS 2003 IIHF WORLD UNDER-18 CHAMPIONSHIP AGAINST RUSSIA
Braydon Coburn, of Shaunovan, SK, has been named captain of Canada's World Championship Under-18 Team. Coburn, a defenceman with the WHL's Portland Winterhawks, was an assistant captain with Canada's National Under-18 Team at the Eight Nations Cup in August, 2002. Coburn and his teammates won gold at the 2002 Eight Nations Cup.
Ryan Getzlaf (Regina, SK/Calgary, WHL), and Brent Seabrook (North Delta, BC/Lethbridge, WHL) were named assistant captains.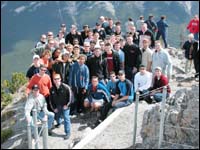 CANADA'S NATIONAL UNDER 18 SUMMER TEAM CAPTURES 6th CONSECUTIVE GOLD MEDAL
PIESTANY, SLOVAKIA - Canada's National Under 18 Summer Team captured the gold medal at the 2002 Eight Nations Under 18 Cup, after defeating Czech Republic 5-1 in the final game of the tournament on Sunday. Canada finished the championship with a perfect 5-0-0 record. » Eight Nations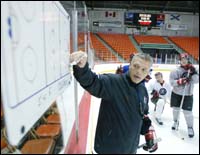 MIKE KELLY NAMED HEAD COACH FOR CANADA'S NATIONAL UNDER 18 WORLD CHAMPIONSHIP TEAM
PIESTANY, SLOVAKIA - Canada's National Under 18 Summer Team captured the gold medal at the 2002 Eight Nations Under 18 Cup, after defeating Czech Republic 5-1 in the final game of the tournament on Sunday. Canada finished the championship with a perfect 5-0-0 record. » more