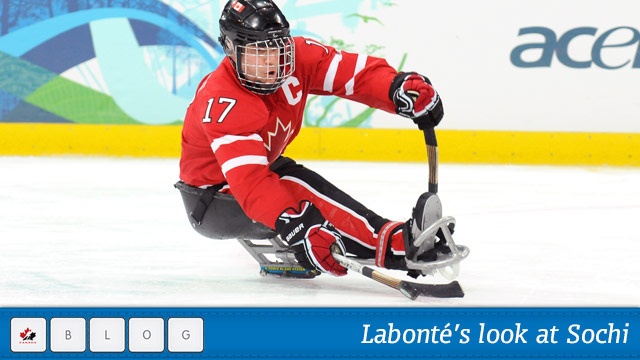 Semifinal
Here we go! The die is cast; the Canadians will play the United States in the semifinals. What a surprise! I was expecting these two teams in the gold medal game, but the Russians clouded the issue with a win over the Americans in the preliminary round. Will they get over the shock of that defeat against Russia in time? One thing is for sure, this all-North American semifinal promises to be of a very high calibre. It's like having a final ... before the final!
In the other semifinal, Russia, supported by the hometown crowd, will face Norway's experienced team in an interesting duel.
The crucial semifinal
In a tournament as short as the Paralympic Games – only three preliminary games – each game is important. A single defeat or tie can derail the whole plan and quickly crush any dream of a medal.
But the semifinal may be the most difficult game of all. Preparing for this crucial confrontation can be as hard as walking a tightrope. In fact, it's very difficult to concentrate on that single game knowing that despite a win that guarantees you of a medal, the color of that medal is still undetermined.
Looking at it from a different point of view, you have to put things into perspective; although the game is decisive, you shouldn't give a disproportionate importance to it and risk unnecessary tension. "Gripping the stick too tight" in this type of game is never a good idea!
In short, there's only a thin line between short-sightedness and trying to look to far ahead. The saying "one game at a time" was never as true as in these circumstances.
My personal approach would be to try to assess my preparation level. If I felt more tense than usual, I'd stick to the concrete aspects of my usual pre-game routine. Basically, it's just a game, so you have to leave some space for the fun of playing it. I know this is easier said than done, but the experience also helps a lot.
Paralympic memory
A semifinal is the story of just one game. On any given day, any team can beat another one, even if it's the underdog. In my last entry, I mentioned such a game that turned to our advantage. Today's memory is quite the opposite.
It's hard for me to analyze, even today, what exactly happened during our semifinal against Japan at the 2010 Vancouver Games. Were we too confident facing Japan? Was it one of those games where "the puck didn't roll our way?"
Maybe Kojin Nakakita, the Japanese head coach, was the one who best summed up the situation at that time, saying that out of 1,000 games played between our two countries, Canada would win 999 of them. But that day, the stars aligned for Japan, and their goalie, Mitsuru Nagase, stopped just about everything.
From that fateful day on, events have rather confirmed Nakakita's words; the Japanese have fallen upon hard times, even failing to qualify for the Sochi Games.