My Team Canada - Graham DeLaet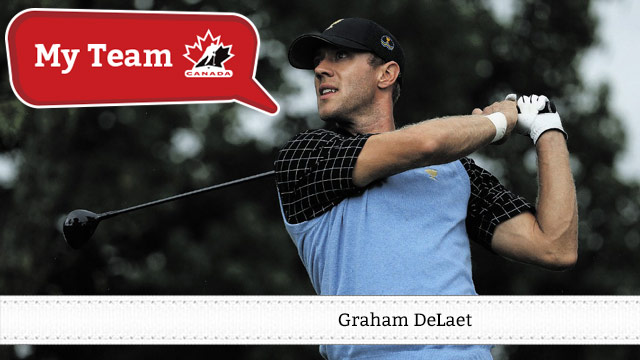 Graham DeLaet was born in Weyburn, Sask., with a passion for hockey, fishing and, of course, golf. Known to be one of the game's best ball strikers, DeLaet had a milestone year on the PGA Tour in 2013, recording seven top 10 finishes and finishing 21st on the PGA Tour money list. He placed eighth in the FedEx Cup Playoffs and capped off the year with a breakthrough performance in his first appearance with the International team at the President's Cup. Starting off the new PGA Tour season, Graham has already recorded two top 10 finishes in three events.
DeLaet attended Boise State University, and is very passionate about BSU Broncos football. He is also a huge hockey fan. He played minor hockey through Midget, even getting into one Junior A game, and is an avid Calgary Flames supporter.
Each year, DeLaet hosts the annual Graham DeLaet Charity Golf Tournament in support of junior golf in Saskatchewan and the Weyburn & District Hospital Foundation.
Goaltenders
Corey Crawford

Josh Harding

Mike Smith


WHY?: I tried to go with the guys who are playing great hockey right now. The guys I selected don't have a huge depth of experience, but at some point the torch has to be passed on. I really wanted to put Martin Brodeur on the list, because he is still playing at such a high level.


Defencemen
Jay Bouwmeester

Drew Doughty

Mike Green

Duncan Keith

Kris Letang

Brent Seabrook

P.K. Subban

Shea Weber


WHY?: Apart from a few of the obvious selections, I went with a couple guys who are great skaters and offensive minded, guys like Subban, Letang and Bouwmeester.


Forwards
Patrice Bergeron

Sidney Crosby

Matt Duchene

Jordan Eberle

Ryan Getzlaf

Taylor Hall

Chris Kunitz

Rick Nash

James Neal

Corey Perry

Eric Staal

Steven Stamkos

John Tavares

Jonathan Toews


WHY?: This is where it gets so difficult to choose 14 guys. Going down the list of potential players is superstar after superstar. In all honesty, I chose the guys who I enjoy watching play the most, and threw in a few Sasky guys. I'm a proud Sasky and would love to see these guys wearing the Team Canada maple leaf on their chest. These are tough decisions to make for me, so I couldn't imagine making the actual picks with an entire nation waiting in anticipation. There are so many deserving players and I felt like we could send two highly competitive teams. However, this is a great problem to have.