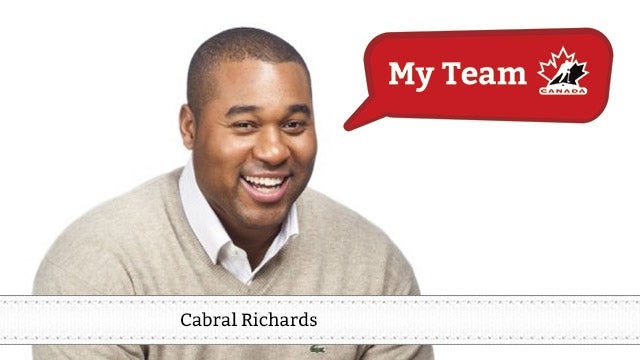 Cabral 'Cabbie' Richards hosts Cabbie Presents, a weekly segment airing Fridays on SportsCentre. Known for his unique take on sports broadcasting and interviewing, Cabbie pokes fun at sports headlines and high-profile athletes and sports personalities.
Richards is best known for his interviews with L.A. Lakers superstar Kobe Bryant. During their odd-couple four-year relationship, he went from trying to get an invite to the "Casa de Bryant" ­– prompting answers from Bryant such as, "Sure, it's 8 Out of Your Mind Avenue" to scoring an invitation on Bryant's private helicopter.
Richards has also interviewed LeBron James and Kobe Bryant together, given Aaron Rodgers a muppet, played his own character in NHL 14 against Martin Brodeur and conversed with Mike Tyson at his home. He hosts the ESPY Awards Red Carpet special and his "Cabbie Presents: The Podcast" was recognized by iTunes Canada on its Best of 2012 list.
Goaltenders
Ray Emery

Corey Crawford

Carey Price


Defencemen
Kevin Bieksa

Drew Doughty

Jason Garrison

Kris Letang

Brent Seabrook

Marc Staal

P.K. Subban

Shea Weber


Forwards
Brent Burns

Jeff Carter

Sidney Crosby

Matt Duchene

Ryan Getzlaf

Claude Giroux

Milan Lucic

Dustin Penner

Mike Richards

Patrick Sharp

Steven Stamkos

John Tavares

Jonathan Toews

Kris Versteeg

WHY?: Aesthetically, this will be the most distinctly "Canadian hockey player" team ever. Brent Burns, Kevin Bieksa and Milan Lucic are intimidating and look very "Canadian." Claude Giroux, Matt Duchene and Mike Richards have great flowing locks, throwback-style hockey hair.
All players must grow beards starting Jan. 1, so by the time they reach Sochi, they look especially grizzly. All the beards will look great with the retro Team Canada sweaters. Brent Burns is the early favourite for the "Schick Quattro Man of the Winter Games." Las Vegas has him listed at -450. Dustin Penner is also the hairiest player in the NHL – perfect for Siberian-like temperatures in mid-February.
Jason Garrison will be the team's DJ, playing the soundtrack for this tremendous experience. Also, it's a serious tournament, and everyone's focused, so you need a few guys to keep things loose. This year, Dustin Penner and Kris Versteeg will provide moments of levity in the dressing room.