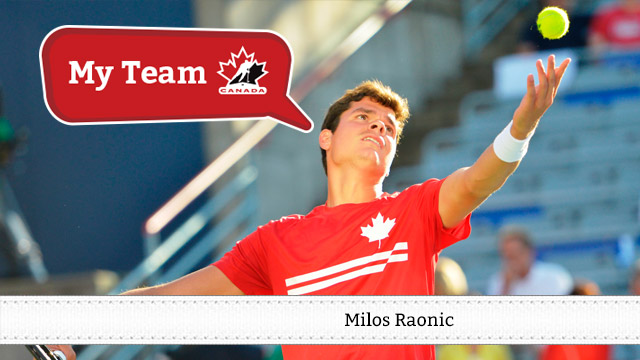 At 22 years old, Milos Raonic is the highest-ranked Canadian male singles player in history.
In 2013, he broke into the Top 10 for the first time after reaching the final at the Rogers Cup presented by National Bank in Montreal, the first Canadian since 1958 to reach the final on home soil.
Raonic has five career titles, including two this season (San Jose and Bangkok), as well as five additional runner-up finishes on the ATP World Tour. The Thornhill, Ont., native has a 13-5 all-time Davis Cup record in nine ties played for Canada and went 5-1 in 2013 while leading the country to the Davis Cup semifinals for the first time in history, defeating both Spain and Italy. In 2011, he was recognized as the ATP World Tour Newcomer of the Year and in 2012 he was named the QMI Canadian Male Athlete of the Year.
Goaltenders
Corey Crawford

Carey Price

Mike Smith


WHY?: Price is in the top five for goals-against average and save percentage, and was tournament MVP when Canada won gold at the World Juniors in 2007. Crawford is a Stanley Cup champion, and Smith has proven to be clutch, pushing the Coyotes to the playoffs in 2012.


Defencemen
Jay Bouwmeester

Dan Boyle

Drew Doughty

Duncan Keith

Alex Pietrangelo

Marc Staal

Marc-Eduard Vlasic

Shea Weber


WHY?: Strong skaters are key, to move themselves and the puck on the larger international ice, as are big guys who are reliable in their own end.


Forwards
Patrice Bergeron

Logan Couture

Sidney Crosby

Matt Duchene

Ryan Getzlaf

Claude Giroux

Rick Nash

Corey Perry

Brad Richards

Martin St. Louis

Patrick Sharp

Steven Stamkos

John Tavares

Jonathan Toews


WHY?: A younger team than usual, they have been given a chance to showcase themselves for spots on the team, and I believe they will be there, along with veterans that are well-respected and know how to lead. These are all adaptable players that allow opportunities for many different line combinations. All are very skilled and know how to win.