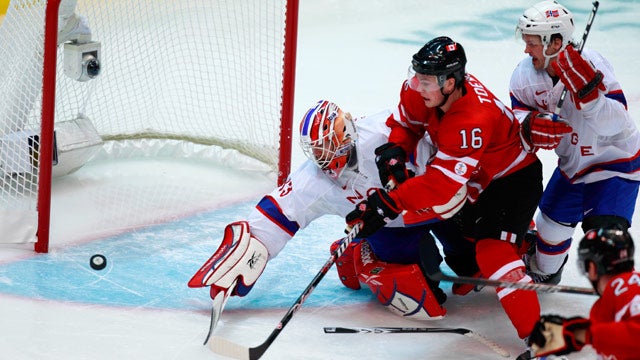 by David Brien
2010 – CANADA 8, NORWAY 0
By the time Feb. 16, 2010 rolled around, it had been a long time since Canada had played a men's Olympic hockey game on Canadian ice – 8,025 days, to be exact, since Canada faced Czechoslovakia at the 1988 Games in Calgary.
So to say the fans, not to mention the players, were excited for Canada vs. Norway in Vancouver would be a bit of an understatement.
"It was a huge thrill," Canadian captain, and B.C. native, Scott Niedermayer says. "Even before stepping out onto the ice, just being in Vancouver and seeing so many people around town wearing red and white and waving Canadian flags was pretty amazing.
"When we hit the ice for the first game, the rink was no different. We felt the excitement and the energy that everybody had. It's something I'll never forget and it was a pretty special moment for sure."
Fans had plenty to cheer about in the men's tournament opener – Jarome Iginla had a hat trick, Dany Heatley scored twice, and Mike Richards, Ryan Getzlaf and Corey Perry added singles for the Canadians, who outshot Norway 42-15.
Niedermayer says the one-sided victory served as a bit of a stress reliever for a team that had only practised together one time before the puck dropped and knew the pressures of playing on home ice, some of which came from within.
"We put a lot of pressure on ourselves; going into an ice hockey tournament and being a Canadian, you already know what the expectations are. We are no different than a fan sitting at home and watching the game, we want to go out there and win."
OTHER GAMES
1980 – After opening its first Olympic tournament in 12 years with a pair of wins, Canada gave up a late shorthanded goal to Finland's Seppo Suoraniemi and dropped a 4-3 decision in Lake Placid.
1988 – Gord Sherven, Ken Yaremchuk and Marc Habscheid scored third-period goals to break open a 1-1 tie as Canada beat Switzerland 4-2 to improve to 2-0 in Group A play in Calgary.
1992 – Canada gave up 52 shots on goal, more than any other game in Canadian Olympic history, but erased a 4-2 third-period deficit to pull even before the Unified Team earned a 5-4 win with a late goal. Dave Hannan and Dave Tippett had a goal and an assist each for the Canadians.
1998 – Joe Sakic scored once and adds two assists – his only points of the Games – and Keith Primeau had a pair of goals to lead Canada to a 4-1 win over the United States to close out an unbeaten preliminary round.
2002 – Jayna Hefford had a goal and three assists, Jennifer Botterill scored twice, Kim St-Pierre made 22 saves for the shutout and Canada fired 70 shots on goal as it routed Sweden 11-0 to clinch first in Group A in its preliminary round finale.
2006 – Five different players scored goals, and Simon Gagné was the lone player to record multiple points, finishing with a goal and an assist, as Canada topped Germany 5-1 to run its record to 2-0.