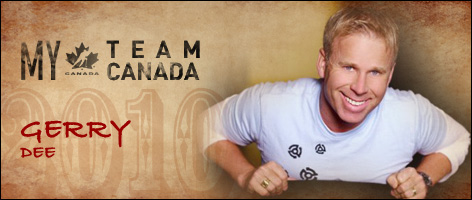 My Team Canada - Gerry Dee : 03/24/2009
Gerry Dee began his comedy career in a very different fashion. The son of Scottish immigrant parents, Gerry was born in Scarborough, Ontario and grew up in Toronto. He currently splits his time between living in Los Angeles and Toronto. He spent 10 years as a high school phys-ed teacher before making the switch to full time comedy in 2003. In April 2006, he appeared in the CBC mini-series Canada Russia 72 where he played the role of Boston Bruin great Wayne Cashman. In the summer of 2006, he played Donny in the much-anticipated Trailer Park Boys: The Movie. He also recently appeared on NBC's Last Comic Standing 5, where he finished third. Gerry can be seen weekly on 'The Score' with his very humourous segment called Gerry Dee – Sports Reporter. Gerry is a competitive amateur golfer (2 handicap), a former provincially-ranked tennis player and a former university hockey player at St. Francis Xavier University.
Forwards
Defense

Paul Henderson
Jarome Iginla
Georges Laracque
Milan Lucic
Me
Zach Parise
Georges St. Pierre
Eric Staal
Jordan Staal
George Strombolopolous
John Tavares
Joe Thornton
Ian White

Brian Campbell
Ryan Ellis
Mike Green
Bobby Orr
Chris Pronger
Marc Staal
Ian White

Goaltenders

Martin Brodeur
Steve Mason
Goaltenders: Steve Mason should definitely be one of the goalies but not the Steve Mason from Columbus but my friend Steve Mason who is the goalie on my Tuesday night men's league squad. He is very good when he can make the games. Have to go with Martin Brodeur as the only other goalie in case Steve doesn't show. No need for three goalies as it creates problems and I know Steve will be fine as a back-up because he really just wants to go to the tournament and doesn't mind not playing. He played AA hockey in Vancouver and just wants to see some old friends.
Defense: Bobby Orr's knee must be ready to go by now. I like having Ellis there as he will likely be on the 2014 team so it will give him some great experience plus he can hang out with Tavares. Pronger, Green and Campbell will log a lot of ice time in case Orr and Ellis are not ready to go.
Forwards: I like Joe Thornton and Jarome Iginla as they are very nice guys. Zach Parise would need to get his Canadian passport but his dad is Canadian so it should not be a problem. The "George" line would add some toughness to the line-up. I am not sure if George Strombolopolous or Georges St. Pierre can skate but I know that two of the three Georges can at least fight. All three Staal brothers should be there so the parents and family can have a nice family trip together. Ian White would be a great swing man and will act as the 13th forward and 7th defencemen. Besides, nobody else will pick him. Paul Henderson is big when it comes to international goals. I like having Tavares there as he will likely be on the 2014 team so it will give him some great experience plus he can hang out with Ellis. Milan Lucic is an all-around great player who can move up to the "George" line if one of the Georges can't skate. He is also from B.C. so he can act as a tour guide at the same time.