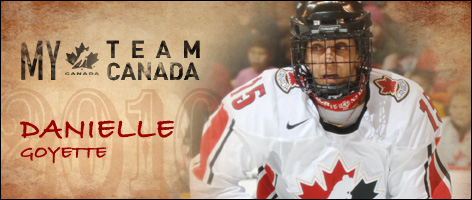 My Team Canada - Danielle Goyette : 03/12/2009
An eight-time world champion and two-time Olympic gold medalist, Danielle Goyette is one of the highest-scoring players in Canadian women's hockey history, sitting second all-time in goals (114), assists (105) and points (219) in National Women's Team history. One of her biggest career highlights came off the ice, as she was chosen to carry the Canadian flag at the 2006 Olympic Winter Games in Turin, Italy. She announced her retirement in January 2008 but has stayed close to the game, serving as the head coach of the University of Calgary women's team and as an assistant coach with Canada's National Women's Under-18 Team.
Forwards
Defense

Jeff Carter
Sidney Crosby
Shane Doan
Simon Gagne
Ryan Getzlaf
Dany Heatley
Jarome Iginla
Vincent Lecavalier
Brenden Morrow
Rick Nash
Mike Richards
Martin St. Louis
Joe Thornton

Jay Bouwmeester
Dan Boyle
Brent Burns
Mike Green
Scott Niedermayer
Chris Pronger
Robyn Regehr

Goaltenders

Martin Brodeur
Roberto Luongo
Steve Mason
Goaltenders: Canada has the luxury of having a lot of solid goaltenders. The pressure will be on them and that's why I went with experience and Mason as a 3rd goalie. He won't expect to be the go-to guy but if we need him, he will be able to step up.
Defense: Because the games are being played on small ice I chose big and tough guys who play physical, and I have some skilled defensemen who can move the puck to the forwards and are able to jump up in the attack and create a lot of offense.
Forwards: Well, this is a little bit harder. We have a lot of great forwards in Canada but I went with players who play with passion and excitement. This is a good mix of experience at the international level and young players who are waiting to prove they belong there.