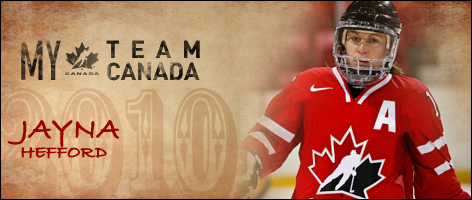 My Team Canada - Jayna Hefford : 02/24/2009
One of Canada's most prolific goal scorers, Jayna Hefford is just three goals behind Danielle Goyette for second place among all-time goal scorers for the National Women's Team, with 112. A three-time Olympian, Hefford may be best known for scoring one of the biggest goals in Canadian Olympic history. With just one second to go in the second period of the 2002 gold medal game, Hefford scored what would turn out to be the game-winner as Canada claimed its first-ever Olympic gold medal with a 3-2 win over the United States.
Forwards
Defense

Jeff Carter
Sidney Crosby
Shane Doan
Ryan Getzlaf
Dany Heatley
Jarome Iginla
Vincent Lecavalier
Rick Nash
Mike Richards
Martin St-Louis
Ryan Smyth
Joe Thornton
Jonathan Toews

Jay Bouwmeester
Dan Boyle
Brian Campbell
Mike Green
Dion Phaneuf
Chris Pronger
Shea Weber

Goaltenders

Martin Brodeur
Roberto Luongo
Steve Mason
Goaltenders: I chose Brodeur and Luongo since they are both veteran goalies, who are both still among the best in the league, and Steve Mason since he is young and currently having a great season.
Defense: I went with fairly offensive defensemen. I like the youth on defense, those players who have a lot of offensive potential (Boyle, Campbell, Green, Phaneuf and Weber). Bouwmeester and Pronger provide leadership and experience.
Forwards: There are a number of obvious choices that can't be left off – Crosby, Getzlaf, Heatley, Iginla, Lecavalier and Thornton. There is also another core group who have competed internationally for Canada in the past and been successful, players like Carter, Nash, Toews and St. Louis. I was also sure to include some role players who would make it tough to play against in Doan, Richards and Smyth. I think overall, there is a lot of leadership, with a good mix of youth and experience.