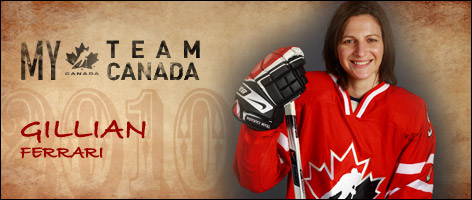 My Team Canada - Gillian Ferrari : 12/04/2009
Since joining Canada's National Women's Team during the 2000-01 season, Gillian Ferrari has been one of the rocks on the Canadian blueline, winning two Olympic gold medals (2002, 2006) and two IIHF World Women's Championship gold medals (2004, 2007) in her decade in the red and white. The Thornhill, Ont. native made quite a splash in her NWT debut, scoring against Sweden in a 4-0 win in Hanna, Alta., but has failed to find the back of the net in more than 75 games since then.
Forwards
Defense

Jeff Carter
Dan Cleary
Sidney Crosby
Shane Doan
Ryan Getzlaf
Dany Heatley
Jarome Iginla
Vincent Lecavalier
Brenden Morrow
Ryan Smyth
Eric Staal
Jordan Staal
Jonathan Toews

Jay Bouwmeester
Dan Boyle
Scott Niedermayer
Chris Pronger
Robyn Regehr
Brent Seabrook

Goaltenders

Martin Brodeur
Roberto Luongo
Cam Ward
Goaltenders: I choose the obvious, big name, proven French goalies because it's my experience that they never let you down. I also went with Ward because he's an excellent goalie and his nickname is Wardo ... just like Catherine and I wouldn't mess with her ... ever.
Defence: In an ideal world I would have chosen 13 defencemen and 7 forwards, but since that is unlikely to happen I went with a good mix of offensive and defensive defensemen. I think on the NHL-sized ice, having strong physical defensemen will be an asset.
Forwards: I tried to balance youth and experience, goal scorers and role players. I like the character players like Smyth and Doan and I think they'll be a big asset in such a pressure-filled situation the men are going to face in Vancouver. I'm glad that I don't really have to choose this team because, in all honesty, I think you could make a case of any of the guys that were on the orientation camp roster.