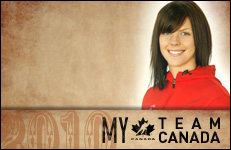 MY TEAM CANADA WITH...
REGAN LAUSCHER
A seven-time Canadian champion and two-time Olympian (12th in 2006, 10th in 2002), Regan Lauscher leads the deepest women's luge squad in Canadian history into Vancouver 2010.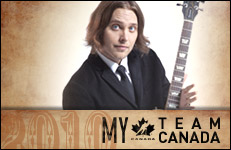 MY TEAM CANADA WITH...
ALEXANDRE PARR
Alexandre Parr has risen to the top of music in Quebec as the guitarist with Les Trois Accords, which was named group of the year in 2005 at the Felix Awards, the Grammys of Quebec.
MY TEAM CANADA WITH...
BRAD SPENCE
Brad Spence achieved his best career World Cup result last season, finishing 13th in the slalom at Kranjska Gora after recovering from a right leg injury suffered in a 2005 training crash.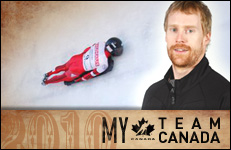 MY TEAM CANADA WITH...
JON MONTGOMERY
In 2002, a casual trip to Canada Olympic Park in Calgary left an indelible mark on Jon Montgomery when the Russell, Man., native witnessed a skeleton race and fell in love with the sport.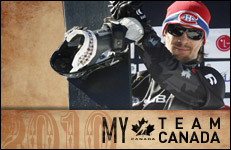 MY TEAM CANADA WITH...
FRANÇOIS BOIVIN
The self-proclaimed 'best-looking man of Jonquiere, Que.' and a 2006 Olympian – he finished 10th – François Boivin is back for another crack at Olympic gold on the hills of Whistler.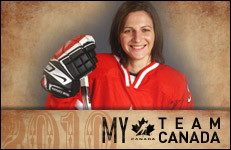 MY TEAM CANADA WITH...
GILLIAN FERRARI
Gillian Ferrari has been one of the rocks on the Canadian blue line, winning two Olympic golds and two IIHF World Women's Championship golds in her decade in the red and white.