Bubble Blog: Bowen Byram
The Vancouver Giants (WHL) defenceman recaps the three weeks of selection camp (including quarantine), shares his feelings on getting back on the ice and takes a quick look back at his golden memories from 2020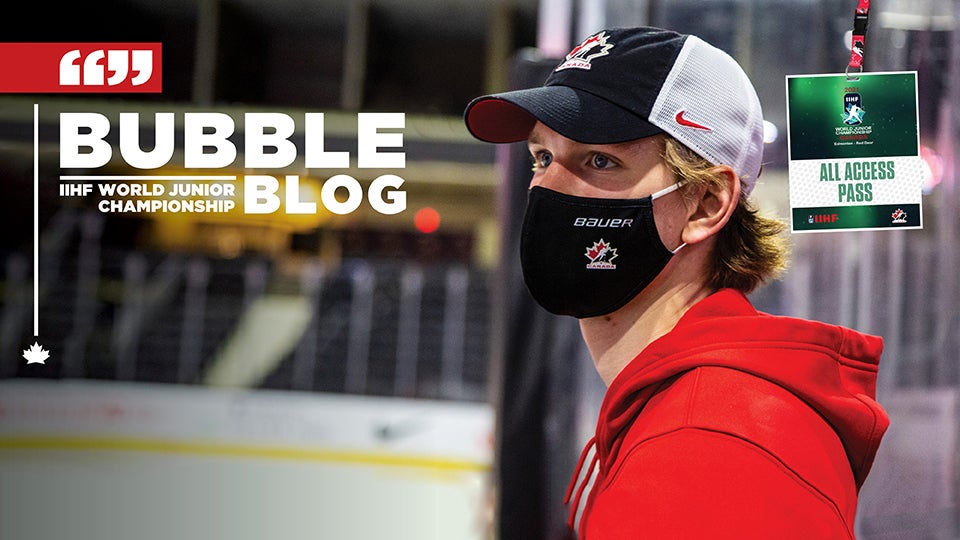 It has been a long time coming – getting back into a competitive environment is a breath of fresh air. As an athlete, I am always trying to find ways to get better, and the long offseason was a great opportunity for that. Working out, working on my skating and improving my skills were big focuses of mine, but nothing comes close to being back in a team setting. Being with my teammates was something I missed a lot, sharing stories and laughs. There's nothing like it.
The first 10 days of camp were a lot of fun. The first few days were practices, sometimes twice a day, and working out. It made for long days, but I wouldn't want it any other way! Then we had two intrasquad games that were a great learning experience. It has been about getting used to the coaching staff's new systems and expectations, and also getting used to playing with new guys while trying to get to know everyone on a personal level. It can be a challenge. But playing in a competitive game where people are battling to make a team was a blast.
But then we went into quarantine, and everyone has to stay in their rooms. It wasn't what anyone had planned, but it was a part of the journey and we needed to embrace it. We stayed in touch, played some video games, worked out and there were some great guest speakers. It was a long two weeks, but are coming out of it stronger, I know it.
Going through camp knowing that close to half of the players here will be released, it can be stressful. But to have the chance to represent our country in the IIHF World Junior Championship is all worth it! It's a crazy feeling being a part of something that means so much to Canada. It's something that all of us are very lucky to have the opportunity to do, and something I'm extremely honoured to have done once already.
Winning a gold medal last year is something I will never forget, but I'm very excited to start this journey with a new group of players and staff! Every event brings something different to the table. With this being the first World Juniors held in a bubble, it will be interesting, but no less enjoyable. All of us in camp are looking forward to the opportunity and to work together to capture another gold medal on home ice.
Thank you to everybody for the continuous support!
Stay safe and healthy.
Bo