CIZIKAS' GOAL LIFTS CANADA TO 4-1 WIN OVER SWISS AT WORLD JUNIORS
BUFFALO, N.Y. – A year later, Canada's chance to avenge a loss on home ice to the United States has come at the world junior hockey championship.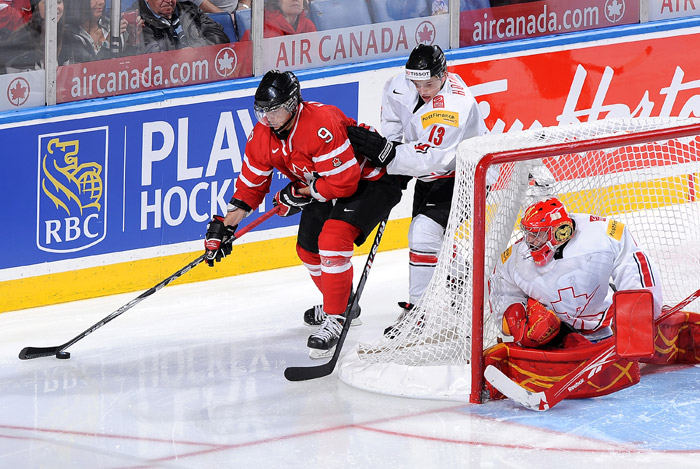 Casey Cizikas got the game-winner in the second period and Louis Leblanc put the victory away in the third as Canada overcame outstanding goaltending from Benjamin Conz to defeat Switzerland 4-1 in the quarter-finals Sunday.
That puts the national team into a semifinal against the Americans on Monday night (TSN, 7:30 p.m. ET) before what is sure to be a full house at HSBC arena, which has been packed with Canadian fans from just across the border for each of the country's games.
"This whole tournament has been centred around Canada-U.S. and here it is," said winger Marcus Foligno, a Buffalo native and Sabres draft pick who has been a physical force for Canada all week. "Everything fell right into place. I couldn't ask for anything else.
"That's what people want – revenge against the U.S."
Canada was forced to play in the quarter-finals when it was beaten 6-5 in a shootout in its final round robin game by Sweden, which finished first in its group and earned a bye to the semifinals. Canada had to get by Switzerland to face the Americans, who finished first in the other group.
A year ago in Saskatoon, Canada's run of five straight world junior titles ended when John Carlson scored in overtime to give the fast and skilled Americans a 6-5 victory in the final.
Only four Canadian players and eight Americans are back from that game, but emotion is sure to run high between the rivals, some of whom are teammates on junior clubs.
Chief among them is U.S. goaltender Jack Campbell, the winner of last year's final, who plays for the Windsor Spitfires and is a teammate of Canadian stalwarts Ryan Ellis and Zack Kassian.
"At some point or another, whether it's the finals or the semis, we expected to play them," said Ellis, Canada's captain. "They're a good team.
"It was a matter of time. We're excited. It's going to be a heck of a game. They got an extra day off, but we'll see what happens. You see teammates, guys from minor hockey you played with and against all your life. To play them on such a big stage as this, it's pretty exciting."
The Americans have been the betting favourite, but the Swedes have also proven to be a tight, talented group that doesn't back down from physical play.
Sweden meets Russia in Monday's other semifinal. Russia downed Finland 4-3 in overtime in Sunday's late quarter-final.
In the relegation round, Slovakia blanked Norway 5-0 and the Czech Republic edged Germany 3-2. The Czechs and Slovakia will be back for the 2012 tournament, while Norway and Germany were relegated.
Canada brings a big team to the semifinals that needs to work hard to produce goals.
"We have to play to our strengths," said coach Dave Cameron. "One advantage we have is size, and that's only an advantage if you use it.
"There are teams that are quicker than us so we can't get into run-and-gun. We need to get the puck to certain areas and be physical."
There wasn't much physical play against the Swiss as Canada rebounded from giving up an early goal to Inti Pestoni to earn a win while holding a 50-22 shot advantage.
"The only time you can hit them is when they have the puck and we had possession most of the game," said Foligno.
It started badly for Canada as Mark Visentin, replacing Olivier Roy in goal, was caught napping only 1:09 in as Pestoni sneaked a backhander in at the side of the net on the first shot of the game.
He struggled to master some of the few good shots the Swiss mustered the rest of the way, but Cameron said Visentin would start against the Americans.
"That goal today, if you shot it 1,000 times how many times would Mark stop it, 999'" said Cameron. "The thing you can't factor into your game plan is nerves."
Said Visentin: "I just focused on the next shot. You can't dwell on those things or get rattled. I knew we had the forwards to put the puck in the net."
At the other end, Conz was dazzling as he made 46 saves, including two that looked to be sure Canadian goals in which he darted out a pad to make the save.
"I like games with a lot of shots, as a goalie, it's easier to get into the game when you get a lot of work," said Conz, who has passed through two NHL drafts without being picked. "We worked hard all game. We scored early and tried to keep it going, but against Canada that's very difficult."
Canada is now 19-0 all-time against Switzerland in the tournament.
Ryan Johansen scored in the first period and Kassian added an empty-net goal for Canada.
There were a few thousand fewer fans in red and white among the 14,890 at HSBC Arena for a quarter-final few thought Canada would have to play.
They were quieter than usual watching two teams trap in the neutral zone in a contest with frequent offsides and icings and little of the heavy hitting Canada had in earlier outings. But they took to chanting "We want USA" as time wound down.
The Swiss killed a 46-second two-man Canadian advantage but Canada finally tied the game on its third power play of the period when Johansen beat Conz with a low shot from the left side at 15:06, his team's 15th shot.
Cizikas opted to shoot on a 2-on-1 and beat Conz high to the glove side on Canada's 30th shot. Leblanc scored on a quick shot from the right side in the third while Kassian's goal was on Canada's 50th shot.
Canada's strong finish came after a slow start that Cameron attributed to "nerves, more than anything."
"They come at you with a lot of speed," he said of the Swiss. "They force you to make plays quick. They got that early lead and we had to rebound and we did."
Swiss coach Richard Jost was hit in the head by a puck at the bench and had to go for treatment. A spokesman said he suffered a mild concussion.
Brayden Schenn had two assists for a tournament-leading 16 points in five games. He is two points short of the record for points in one world junior by a Canadian set in 1977 by former Buffalo Sabre Dale McCourt.
Notes: The all-time scoring leader at the world junior is Peter Forsberg with 42 points. He also has the record for one tournament with 31 in 1993, the same year the mark for goals in one tournament of 13 was set by his linemate Markus Naslund … Games involving Canada have attracted an average of 17,857 fans, about 4,000 more than U.S. games have averaged.
Game Information/Renseignements sur le match
Game #/No. de match
18
Round/Ronde
Quarter-final
Arena/Aréna
HSBC Arena
Location/Lieu
Buffalo, NY
Date
Sun. Jan. 02, 2011
Time/Heure
03:30 PM ET
| Box Score/Compte | 1 | 2 | 3 | Final |
| --- | --- | --- | --- | --- |
| CAN | 1 | 1 | 2 | 4 |
| SUI | 1 | 0 | 0 | 1 |
Goals & Penalties/Buts et pénalités
First Period/Première période
Goals/Buts : 01:09 SUI 16 Inti Pestoni 15:06 CAN 19 Ryan Johansen (10 Brayden Schenn, 6 Ryan Ellis) PP
Penalties/Pénaltés : 02:21 SUI 9 Reto Schäppi (Delay of Game) 03:39 SUI 6 Nicholas Steiner (Closing Hand on Puck) 14:53 SUI 15 Sven Bärtschi (Slashing)
Second Period/Deuxieme Période
Goals/Buts : 17:28 CAN 11 Casey Cizikas (25 Carter Ashton)
Penalties/Pénaltés : 13:52 CAN 25 Carter Ashton (Slashing)
Third Period/Troisième Période
Goals/Buts : 04:17 CAN 20 Louis Leblanc (10 Brayden Schenn, 21 Cody Eakin) 18:01 CAN 9 Zack Kassian (4 Dylan Olsen) EN
Penalties/Pénaltés : 11:47 SUI 23 Benjamin Antonietti (Slashing) 14:53 SUI 10 Tristan Scherwey (Checking to the Head) 16:53 SUI 10 Tristan Scherwey (10-Minute Misconduct) 18:01 SUI 22 Nino Niederreiter (10-Minute Misconduct) 18:29 SUI 15 Sven Bärtschi (Roughing) 18:29 CAN 5 Erik Gudbranson (Slashing)
Goaltenders/Gardien(ne)s de but
CAN
30 Mark Visentin
On 1/00:00
Off 3/20:00
SUI
1 Benjamin Conz
On 1/00:00
Off 3/07:50
1 Benjamin Conz
On 3/08:01
Off 3/20:00
| Shots on Goal/Tirs au but | 1 | 2 | 3 | Total |
| --- | --- | --- | --- | --- |
| CAN | 23 | 11 | 16 | 50 |
| SUI | 8 | 9 | 5 | 22 |
Players of the Game/Joueur(se) du match
SUI
19 Ryan Johansen