Alberta claims bronze for first medal at nationals, in front of home province fans
by Melissa Boisvenue
CALGARY, Alta. – Alberta took home the province's first National Women's Under-18 Championship medal Sunday afternoon, in a heated battled against six-time silver medallists Quebec. The game was forced into overtime with both teams refusing to give up, but ultimately Alberta finished on top with a 6-5 finish in front of a home province crowd inside the Markin MacPhail Centre.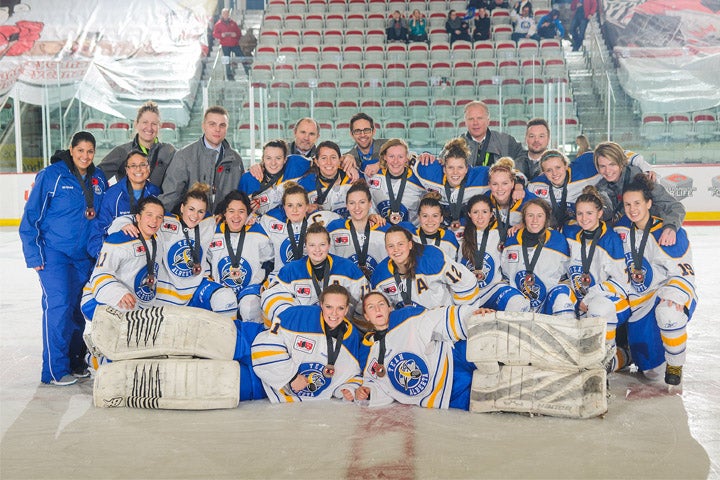 "It's a huge honour to take home the bronze," said Amy Boucher (Edmonton, Alta./Edmonton, AMMFHL), who scored the game-winning overtime goal. "We've had so much support this week from parents and fans coming out. It was so worth it."
Marika Labrecque (Lac Etchemin, Que./Est, Midget AAA) opened up the scoring in the first period with the team's first shot on net. Alberta responded with back-to-back goals from Kennedy Ganser (Provost, Alta./Lloydminster, AMMFHL) and Emily Monaghan (Calgary, Alta./ Edge School, JWHL) on separate power plays.
On a breakaway, Boucher shot the puck towards the net, but Valérie Méthot (St-Augustin-de-Desmaures, Que./ Est, Midget AAA) made a great glove save. The crowd cheered as the first period came to an end with a score of 2-1 in favour of Alberta.
As the second period started, forward Élizabeth Giguère (Quebec City, Que./Stanstead College, Canadian Prep) scored at just 1:16 into the middle frame for Quebec to tie the game. Valérie Audet (St-Bruno-de-Montarville, Que./Nord, Midget AAA) finished off the second strong by scoring for Quebec and making it 3-2 going into intermission.
Labrecque kicked off the scoring in the third period by scoring her second goal of the night, increasing Quebec's lead by two to make it 4-2. After a scoreless 12 minutes, Alberta got back on the board, as Karly Heffernan (Sherwood Park, Alta./Edge School, JHWL) got one past Méthot to make the score 4-3. The momentum continued and Shae Labbe (Calgary, Alta./ Warner School, JWHL) scored to tie the game once again.
Quebec quickly responded with a goal from Alexandra Labelle (St-Louis de Gonzague, Que./ St-Laurent, RSEQ). Alberta wasn't going down without a fight though. Boucher scored with just over two minutes left in the final period. After an exciting three periods of hockey, both teams would finish with five goals apiece to send this game into overtime.
"I saw the open ice because the defense was behind me; so I went for it," Boucher said of tying it up. "Earlier in the game, I had a similar break away but I missed the net, so I slowed it down and mentally prepared for this one."
The overtime period had everyone on the edges of their seats. At 3:58, Alberta swarmed Méthot's net and snuck in the winning goal. Boucher was credited with the goal, on an assist from Codie Cross (Airdie, Alta./ Edge School, JWHL).
Boucher said she wasn't sure if she had tipped the winning goal in though, as it was a bit of a scramble out front in those final seconds. The whole team cheered in the dressing room and said it simply didn't matter who did score that goal, and that bringing home the medal for Alberta was result of a team effort.
"It's such a huge honour to be the first team for Alberta to take the bronze, especially at home," Boucher said. "Our warm-up shirts say 'This is our barn'; it's just really sweet."
Alberta has never won a medal in this tournament, and it is clear that the girls are excited and proud that they claimed bronze in their home province.
› Summary