British Columbia shuts out Saskatchewan for seventh place finish at U18 nationals
by Amy McCormack
CALGARY, Alta. – In the fight for seventh place, British Columbia managed to shut out Saskatchewan 5-0, giving Valencia Yordanov (Port Coquitlam, B.C./Fraser Valley, BCFMAAAHL) a well-deserved shutout Saturday morning at the 2013 National Women's Under-18 Championship.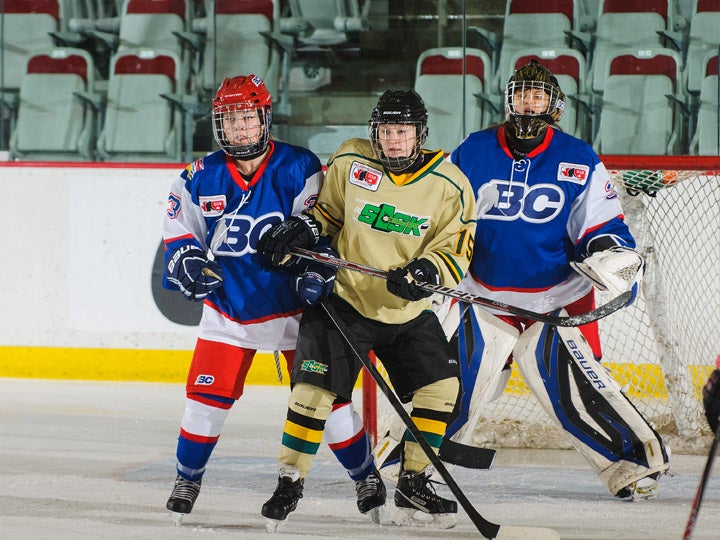 The game remained scoreless for the first period and the shots on net were almost equal, seven to six in favour of British Columbia. After a scramble in front of the net late in the second, B.C forward Chelsea Wilson (Langley, B.C./Fraser Valley, BCFMAAAHL) picked up the rebound to give her team a 1-0 lead.
Early in the third Emily Costales (Vancouver, B.C./Pacific, JWHL) fed Alyssa Erickson (Mission, B.C./Okanagan Hockey Academy, JWHL) to make it 2-0 for British Columbia.
Penalties also helped out British Columbia in the third and left Saskatchewan shorthanded, resulting in power-plays goals Costales at 6:34, Micah Hart (Saanichton, B.C./Okanagan Hockey Academy, JWHL) at 9:02 and Leah Lum in the last eight seconds of the middle frame.
"We had been practising our power plays leading up to the tournament and we were able to use that practice this game," Erickson said after the win in what was both team's final game of this prestigious tournament.
Saskatchewan defenceman Brooke Hobson (Prince Albert, Sask./Prince Albert, SFMAAAHL) and B.C. forward Lauren Spring (Kelowna, B.C./Pursuit of Excellence, Midget AAA) earned the Player of the Game honours.
Medal games take place Sunday, with the bronze set for 12 p.m. MT and available for viewing live on FASTHockey at www.hockeycanada.ca/nwu18 and the puck dropping on the battle for gold at 4 p.m. MT, with the final game to air at 10 p.m. ET/8 p.m. MT on TSN 2, official broadcasters of Hockey Canada.
› Summary