Ontario Red back in gold medal game; Leslie scores game-winner in overtime thriller
by Melissa Boisvenue
After an unbelievable comeback by Quebec, it was Ontario Red to win Saturday's second semifinal in the end, with Rebecca Leslie (Ottawa, Ont./Ottawa, PWHL) notching the game-winner in a thrilling overtime period to secure a 4-3 win and a berth in Sunday's gold medal game.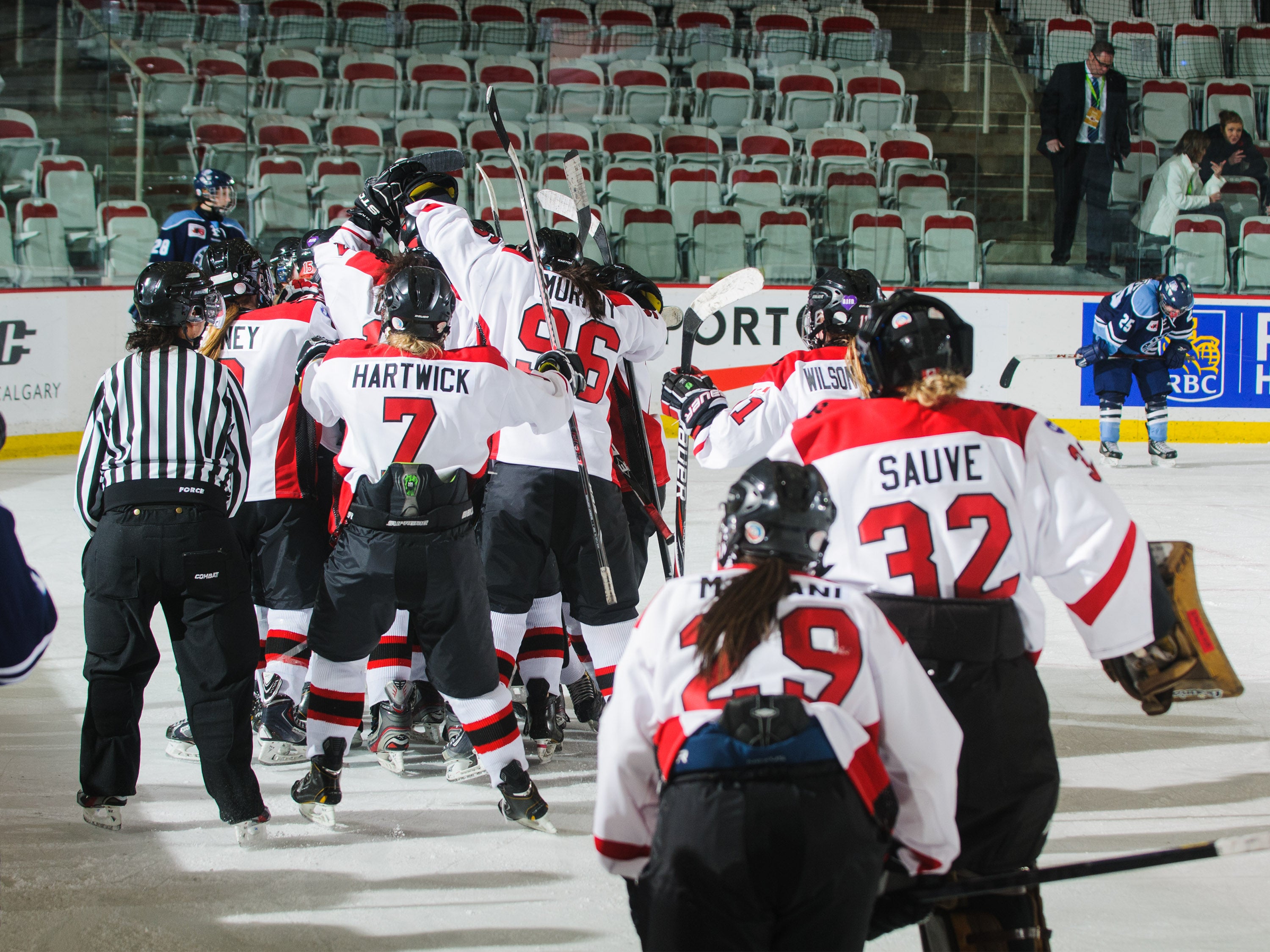 Both teams played a solid game, and the sportsmanship between the two was evident from the first puck drop to the final whistle.
After a scoreless first period, enthusiastic Quebec fans in blue wigs shouted, "lets go, Quebec!" as the teams skated onto the ice for the second period. Taytum Clairmont (Waterloo, Ont./Toronto, PWHL) shot at Quebec's net but hit the post, but Nadine Edney (Mississauga, Ont./Mississauga, PWHL) quickly recovered the rebound and scored the first goal of the evening at 2:30 in the second.
The Ontario Red momentum continued to build as Amanda Pantaleo (Markham, Ont./Toronto, PWHL) scored 39 seconds later. Ontario Red continued to put the pressure on Quebec, and Amanda Titus (Stittsville, Ont./Ottawa, PWHL) put away the third goal of the game to give Ontario Red a 3-0 lead at 7:12 in the period.
Ève-Audrey Picard (Longueuil, Que./St-Laurent, RSEQ) saw an opening during Quebec's power play, and sent a slap shot towards Kassidy Sauvé (Whitby, Ont./Whitby, PWHL), but the level-headed goaltender made a glove save.
"I knew I had to make those crucial saves, and I had to keep my team in it," Sauvé said after the game.
But the third period belonged to Quebec.
With Ontario Red leading 3-0, Quebec wasn't going down without a fight. Élizabeth Giguère (Quebec City, Que./ Stanstead College, Canadian Prep) scored her team's first goal of the night with help from Alyson Matteau (Blainville, Que./ Northwood School, U.S. prep).
Two quick goals by Alexandra Labelle (St-Louis de Gonzague, Que./ St-Laurent, RSEQ) and Julia Yetman (Pierrefonds, Que./ Ouest, Midget AAA) tied the game up at 3-3.
Quebec's three goals in less than two minutes put them back into the game. The strong goaltending by both teams would send this game to overtime. Ontario Red had nearly twice as many shots on net as Quebec; Sarah-Maude Labrecque (Granby, Que./Sud, Midget AAA) kept Quebec in the game with 41 phenomenal saves at the end of regulation.
The tension continued to build into the ten-minute overtime period. Ann-Sophie Burns (Portneuf, Que./ Est, Midget AAA) saw a scoring opportunity, as her team was on the power play, and fired a slap shot toward the Ontario Red net, but Sauvé caught it midair.
Both teams showed true determination and confidence on the ice, Leslie's crowd-wowing unassisted game-winner likely sent chills through all the hockey fans in the building.
"I was headed towards the bench, but hoping to get a last shot on the net," Leslie said. "I noticed that some of the defence was stepping back towards their goalie, so I took my shot."
The exciting win sends Ontario Red back to the gold medal final, which they missed out in for the first time last year. Ontario Red faces off against provincial rivals Ontario Blue at 4 p.m. MT, with the match-up airing on TSN2 at 8 p.m. MT/10 p.m. ET.
"Our team has come together really well; our goal is almost here," Leslie told Hockey Canada following the semifinal game. "We know Ontario Blue really well, so we know they are going to work hard. It's going to be a great game."
› Summary