Defending champs Ontario Blue knock off host team Alberta in semifinal showdown
by Ryan Ferguson
CALGARY, Alta. – Defending champions Ontario Blue held on to a 3-1 victory against host team Alberta Saturday evening in the 2013 National Women's Under-18 Championship semifinal tilt at the Markin MacPhail Centre.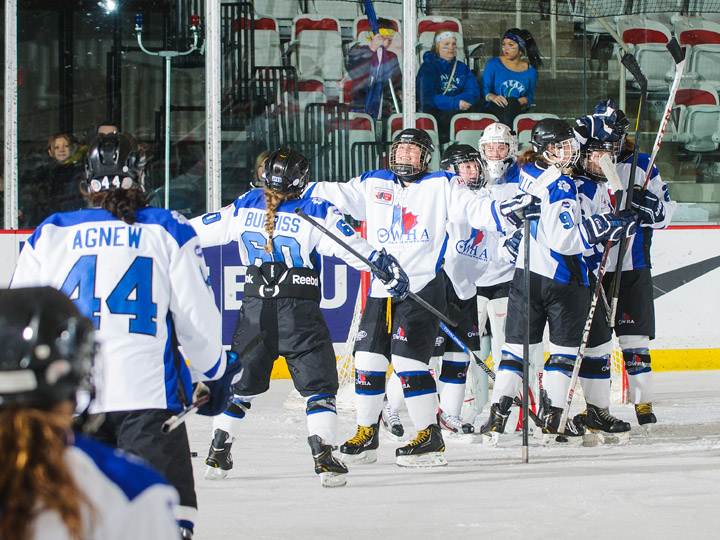 The scoreboard didn't see much action in Saturday's game until the third period, when three of the game's four goals were scored. Ontario Blue goaltender Shea Tiley (Shallow Lake, Ont./Waterloo, PWHL) was an important factor in her team's win after stopping 38 of the 39 shots she faced.
Alberta gave up a shorthanded goal from Josiane Pozzebon (Bourget, Ont./Nepean, PWHL) early in the first period to open up the scoring for Ontario Blue, which gave last year's gold medallists a 1-0 lead. The remainder of the period was a defensive battle despite the teams splitting a total of six penalties. Tiley and Alberta netminder Carissa Fischer (Warner, Alta./Warner School, JWHL) both had spectacular performances in net, saving 10 and 14 shots, respectively, to keep the game close.
The defensive efforts continued throughout the second period, but neither team was able to score. Alberta out-shot Ontario Blue 12-6 in the second period, but was still unable to capitalize on any scoring chances.
The crowd was fired up when Mackenzie Ebel (Airdrie, Alta./Warner School, JWHL) took a hit from behind from Ontario Blue's Lauren Lefler (Windsor, Ont./ Bluewater, PWHL), but Alberta was unable to convert on the power play.
After a very defensive first two periods, Alysha Burris (Napanee, Ont./Durham West, PWHL) was finally able to put another goal on the board for Ontario Blue with help from her hometown club teammate Kennedy Marchment (Courtice, Ont./ Durham West, PWHL).
Alexandra Poznikoff (Edmonton, Alta./Edmonton, AMMFHL) responded for Alberta when she scored on an odd-man rush. Alberta fans were given hope when Ontario Blue's lead was reduced to one with 9:52 left to play.
Moments later, Burris scored her second goal of the night, giving Ontario the momentum back with a 3-1 lead. This would ultimately be the game's final goal after Ontario successfully held off an aggressive final push from Alberta's offense.
Burris was named player of the game for Ontario Blue, while Amy Boucher (Edmonton, Alta./Edmonton, AMMFHL) was given the honour for Alberta.
Saturday night's win means Ontario Blue will be competing for the gold medal tomorrow at 4:00 p.m. MT. Watch it on TSN2, official broadcasters of Hockey Canada, at 10 p.m. ET / 8 p.m. MT. Check out game stories, stats and more at www.hockeycanada.ca/nwu18.
› Summary