Goaltender Boissonnault faces 46 shots to help Team Atlantic skate away with first win
CALGARY, Alta. – Stellar goaltending was an important key for Team Atlantic in its 4-3 win over British Columbia on Friday, in the first east coast victory at the 2013 National Women's Under-18 Championship.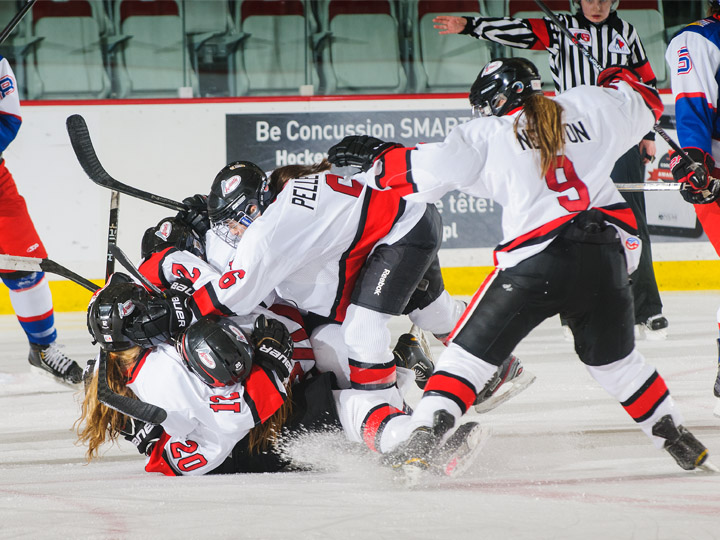 Marlene Boissonnault (Dundee, N.B./Rothesay Netherwood, Canadian Prep) stood on her head for most of the game, while British Columbia fired 46 total shots at her net over the course of the game. In the end, Team B.C. managed to put three pucks in the net, but it would not be enough to defeat Team Atlantic.
But it was a battle between both teams from the start, as players crashed the opposition's crease, trying to drive the puck into each other's nets. Brette Pettet blasted the puck past Valencia Yordanov (Port Coquitlam, B.C./Fraser Valley, BCFMAAAHL) midway through the first. Brie Bellerive (North Vancouver, B.C./Okanagan Hockey Academy, JWHL) reciprocated in the last minute of the period, notching her first of two goals in the game. Bellerive was named Player of the Game for British Columbia thanks to her offensive efforts on the ice.
Sarah Bujold (Riverview, N.B./Moncton, Midget AAA) scored a goal early in the second to take the lead for Team Atlantic. Boissonnault continued to be a wall for her team in the middle frame, stopping 18 shots, but Bellerive once again blasted a shot past her at 6:44 in the period to tie it up at two-apiece. Boissonnault credits her entire team for the big win over B.C.
"Everyone put their hearts in (it), and I put my head up high for everyone on the team, because the chemistry was there and everyone was really excited to play," Boissonnault said after the game.
Amy Curlew (Goose Bay, N.L./Appleby College, Canadian Prep) gave Team Atlantic a 3-2 lead going into second intermission. Pettet picked up Player of the Game honours for Team Atlantic, as she also scored a couple of goals in the game. Her second came at 4:07 in the third, when she made it 4-2 over British Columbia.
British Columbia made a last ditch effort in the third, with Jessie Olfert (Penticton, B.C./Thompson Okanagan, BCFMAAAHL) making it 4-3 with four minutes left on the clock, but there just wasn't enough time to tie it up, and Team Atlantic skated away with the win and its first three points in preliminary standings.
Placement and semifinal games take place Saturday at the Markin MacPhail Centre. Stop by the rink, or if you can't make it out, you can still catch the game live for free on FASTHockey by visiting www.hockeycanada.ca/nwu18.
› Summary