Good things come in three: Lauryn Keen notches natural hat trick in Manitoba's 4-2 win over Saskatchewan
by Timothy MacDonald
Calgary, Alta. – Lauyrn Keen (Manitou, Man./Pembina Valley, MFMHL) dreamed of coming here, but never thought she would score three goals, let alone three goals in one game.
Keen, who also happens to wear No. 3 on her jersey, scored once in the second and twice in the third for a natural hat trick in Manitoba's 4-2 win over Saskatchewan on Thursday, for her province's first win at this year's National Women's Under-18 Championship.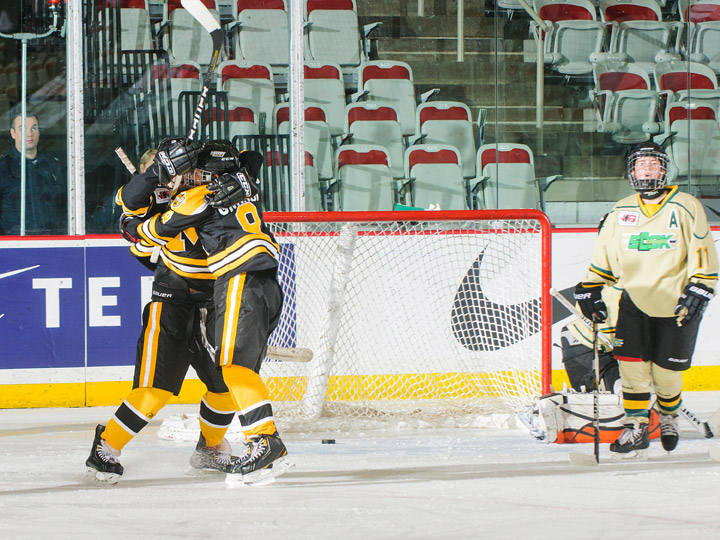 "All my teammates helped me too, I couldn't do it on my own," Keen said following the game. "It was a team effort and I got rewarded with it."
Keen and her teammates outlasted Saskatchewan in a game that started out slow, and was impacted by penalties. The first period saw a very relaxed back and forth pace, as both Saskatchewan and Manitoba were calm and collected on the ice.
Manitoba had two power-play chances by the half-way point of the period, but couldn't capitalize despite maintaining puck possession throughout. Saskatchewan tallied the only goal of the period when Jaycee Gebhard (Plenty, Sask./Notre Dame, JWHL) roofed one over Manitoba goalie Devan Johnson (Stonewall, Man./Stonewall Collegiate, Canadian high school).
Saskatchewan had a power-play chance, and just like Manitoba, maintained pressure but could not capitalize. The teams traded power-play chances early in the second period, but neither team could capitalize. Manitoba did get two breakaway chances midway through the period, but Jessica Vance (Prince Albert, Sask./Prince Albert, SFMAAAHL) was equal to the task, turning both of them aside.
Again the period was very controlled and slow-paced, that is until Manitoba scored with just under four minutes left to go. Randi Marcon (Winnipeg, Man./St. Mary's Academy, Canadian Prep) slid the puck home for the goal. Manitoba kept up the pressure and with 39 seconds left, Keen got credit with the go-ahead goal when Vance fumbled the puck into the net. Manitoba seized the 2-1 heading into the final period.
The third period began as the other two did, a little slow and passive. Saskatchewan did have an early breakaway chance, but Johnson denied the chance with the pad. Play continued and it began to get more aggressive, with Saskatchewan crashing the net. Saskatchewan failed to score on their third power-play chance, and didn't amount much pressure.
Saskatchewan soon after took a penalty for body contact that would prove costly, as shortly into it Keen would get her second of the game. Soon after, Saskatchewan would take another costly penalty lead to Keen's natural hat trick goal, giving Manitoba a 4-1 lead with just over 10 minutes left to play.
Saskatchewan added a late marker from Talia Terry (Regina, Sask./Notre Dame, JWHL), shortly after another goal was disallowed because of a hand pass. But that is as close as Saskatchewan would get, as Manitoba shut them down the rest of the way, winning the game 4-2.
"Our team goal for the week is to get better every game," Keen said. "I think tomorrow we just need to come out better than we did today and the next day better than we did tomorrow".
Manitoba has a tough test tomorrow, as the province faces off against Ontario Red at 4 p.m. MT, while Saskatchewan will plays the late game at 7 p.m. MT against the home province team, Alberta. Watch all the action at the 2013 National Women's Under-18 Championship live on FASTHockey at www.hockeycanada.ca/nwu18.
› Summary