Ontario Blue beats British Columbia 3-1; Shea Tiley makes 30 saves for win
by Melissa Boisvenue
The crowd went wild as undefeated teams Ontario Blue and British Colombia made their entrance onto the ice Thursday evening at the 2013 National Women's Under-18 Championship.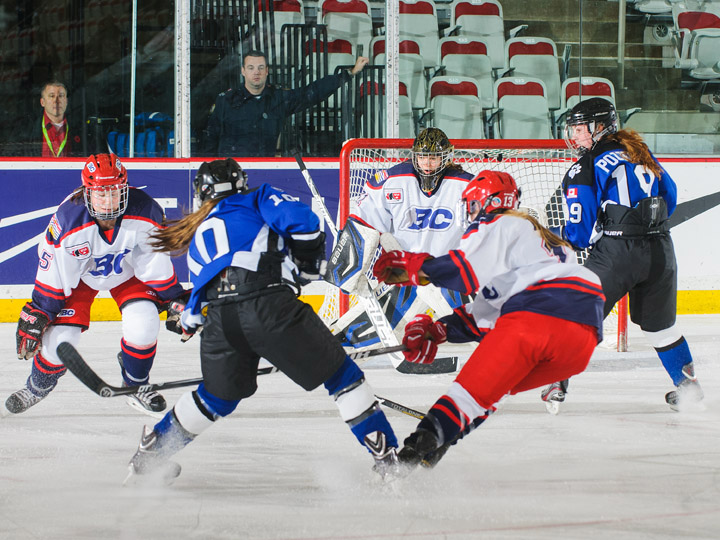 While British Columbia kicked off the scoring in the second, Ontario Blue scored three straight in the second half of the game to claim the game 3-1 in the end.
Both teams had a strong start in the first period, as the puck flew from one end to the other. With only two minutes left in the first, B.C. got a two-minute penalty for slashing, leaving Ontario Blue with an extra man on the ice. Ontario Blue goalie Shea Tiley (Shallow Lake, Ont./Waterloo, PWHL) successfully defended the net until the end of the period.
B.C. forward Leah Lum (Richmond, B.C./Pacific, JWHL) quickly scored in the second, at 1:43 into the period with the assistance of Emily Costales (Vancouver, B.C./Pacific, JWHL). Ontario Blue stayed in the offensive zone, but couldn't get past Valencia Yordanov (Port Coquitlam, B.C./Fraser Valley, BCFMAAAHL).
Ontario Blue's Kennedy Marchment (Courtice, Ont./Durham West, PWHL) passed the puck to Alysha Burris (Napanee, Ont./Durham West, PWHL), who then fed the puck to Shelby Perry (Elginburg, Ont./Kingston, PWHL). Perry had her eyes on the prize, and one-timed the puck into the top shelf of the net.
Entering the third period, the score was tied at 1-1. B.C. had twice as many shots on net, and stuck to an offensive approach. Fans in the stands cheered, as both teams skated hard to take control of the puck. Loud yells from the players echoed in the arena as they shouted to teammates to pass the puck when an opportunity was seen close to the net.
Coaches closely watched the time clock with seven minutes left in the last period. Kirsten Miller (Oakville, Ont./Oakville, PWHL) got past Yordanov and scored a second goal for Ontario Blue.
When Ontario Blue surged with a rush of adrenaline, Lefler buried the puck into the net to making the score 3-1. Ontario Blue continued to put pressure on B.C. and skated off the rink with a 3-1 win, starting a winning streak with two straight win at this week's tournament.
Tiley was named Ontario Blue's Player of the Game, for stopping an impressive 30 out of 31 shots on net.
"I feel honoured, I couldn't have asked to be part of a better team," Tiley said after the game. "The team helped me out a lot for this."
British Columbia plays Team Atlantic tomorrow morning at 10 a.m. MT, and Team Ontario Blue goes up against Quebec at 1 p.m. MT. Watch all the action from Calgary live on FASTHockey at www.hockeycanada.ca/nwu18.
› Summary