Quebec comeback ends in 4-2 win over Team Atlantic; Philion notches two goals
by Amy McCormack
Calgary, Alta. – A physical Game 5 at the 2013 National Women's Under-18 Championship ended with Quebec beating Team Atlantic 4-2 after a comeback in the second and third periods Thursday at the Markin MacPhail Centre.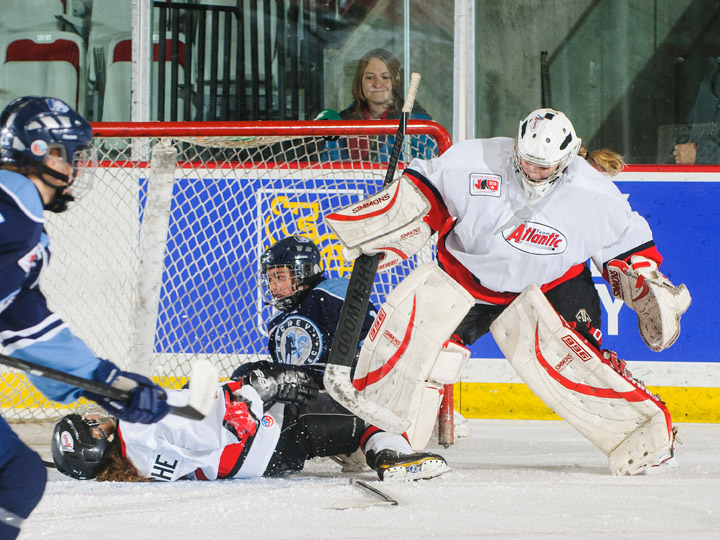 Outshooting team Team Atlantic 40-15, Quebec had many scoring opportunities that paid off late in the game, partially due to Team Atlantic spending a significant amount of time in the penalty box.
At the end of the first period, Atlantic was up 1-0 against Quebec. Brette Pettet (Kentville, N.S./Shattuck St. Mary's, U.S. Prep) scored the first and only goal of the period, taking advantage of a power-play opportunity. It was a scrappy period, with the play pre-dominantly in the Atlantic zone. Team Atlantic goalie Marlene Boissonnault (Dundee, N.B./Rothesay Netherwood School, Canadian Prep) was stellar between the posts, preventing Quebec from putting the puck in the net several times.
The second ended with the score tied at 2-2. Quebec's Valérie Audet (St-Bruno-de-Montarville, Que./Nord, Midget AAA) was able to capitalize on a Team Atlantic penalty, making it a 1-1 game midway through the period. Less then a minute after Quebec scored, Team Atlantic's Marilyn Fortin (Cornwall, P.E.I./Capital District, Midget AAA) scored to regain their one-goal lead. In the dying minutes of the period, Quebec put the puck in the net again on a goal from Claudia Philion (Gatineau, Que./Limoilou, RSEQ) to tie it up once again going into the third. Quebec had Atlantic 29-13 by the end of the second.
Quebec started the third period on a high, killing off a penalty and then scoring an even strength-goal to take the lead for the first time in the game. Stephanie Lalancette (St-Félicien, Que./Limoilou, RSEQ) scored what ended up being the winning goal for Quebec. After a bit of a scramble in front of the net, Philion was able to put the puck into the net again to bring the score to 4-2 for Quebec.
Team Atlantic did not go down without a fight, but was unable to catch up to the two-goal deficit by the time the final buzzer sounded. Netminder Boissonnault was named Player of The Game for Team Atlantic, while Philion received the same honour for Quebec.
Team Atlantic takes on British Columbia at 10 a.m. MT on Friday, while Quebec is up against defending champions Ontario Blue at 1 p.m. MT on Day 3 of the 2013 National Women's Under-18 Championship. Check out game stories, stats and more at www.hockeycanada.ca/nwu18.
› Summary