Alberta wows home province crowd with 1-0 shootout win over Ontario Red
by Erinn Powell
CALGARY, Alta. – A strong Game 8 at the 2013 National Women's Under-18 Championship, featuring undefeated teams Ontario Red and Alberta, ended with a 1-0 win for Alberta, which was decided in a shootout that thrilled fans in the stands at the Markin MacPhail Centre on Thursday evening.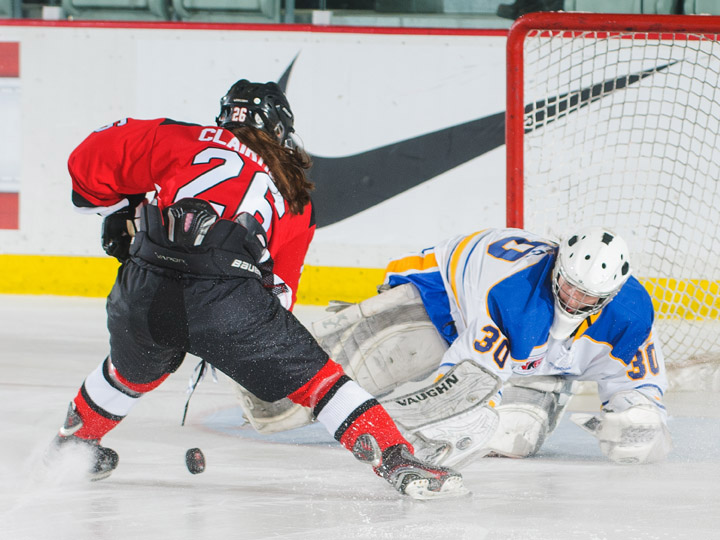 Ontario Red's Breanne Wilson-Bennett (Markham, Ont./Toronto, PWHL) and Alberta's Amy Boucher (Edmonton, Alta./Edmonton, AMMFHL) faced off in the first period puck drop. In the first few minutes of the game, Ontario Red dominated Alberta's end with a constant pressure on net.
As the period progressed, both teams got multiple shots on net. A penalty on Alberta's Erinn Baddock (Vermilion, Alta./Warner School, JWHL) gave Ontario Red the advantage, but Alberta goalie Carissa Fischer (Warner, Alta./Warner School, JWHL) stopped fifteen shots on net after the first 20 minutes of play.
In the high intensity second period, Alberta came out strong right off the start. After a penalty on Alberta's Shae Labbe (Calgary, Alta./Warner School, JWHL) for hooking, Ontario Red dominated with a strong presence in Alberta's end. Alberta quickly brought it back with tough passes and intelligent game play, gaining them multiple shots on net, but all stopped by the impressive play of Ontario Red's Kassidy Sauvé (Whitby, Ont./Whitby, PWHL).
An exciting third period displayed strong determination from both teams. With 10 minutes left in the third, Sauvé lost her glove and took a slapshot to the end, but with gritty perseverance continued to defend any shot directed between her posts. Both teams battled hard until the final buzzer sounded on regulation play, forcing the exciting back-and-forth game into overtime.
"I didn't even realize I had lost my glove until I felt the stick hit me," Sauvé said after the game. "My team helped me out so much; I owe them a lot."
In overtime, both teams created some impressive offensive chances that had fans on the edges of their seats, including a near-miss by Ontario Red that was shot off the post. The puck flew up and down the ice and the game could have gone either way, but neither team could find the back of the net before five minutes of four-on-four OT had come to a close.
As the game went into a shootout, Fischer defended Alberta's net and Sauvé protected Ontario Red's net. The crowd watched each shot with eager anticipation, and loudly cheering on their home province team as Karly Heffernan (Sherwood Park, Alta./Edge School, JWHL) chipped the puck into the net and Kennedy Ganser (Provost, Alta./Lloydminster, AMMFHL) added another goal to give Alberta the 1-0 shootout win over the team perhaps considered the toughest to beat at the tournament.
"We really played well; we moved the puck and established a good forward check," Ganser said after her team's impressive preliminary victory over the seven-time national champions. "It feels amazing."
Wilson-Bennett won Player of the Game for Ontario Red, while Fischer took home the same title for Alberta.
Ontario Red takes on Manitoba at 4 p.m. MT on Friday, while Alberta is up against Saskatchewan at 7 p.m. MT for the feature game. Check out game stories, stats and more at www.hockeycanada.ca/nwu18.
Shootout Results:
ONT-R Taytum Clairmont NO GOAL
ALB Karly Heffernan GOAL
ONT-R Breanne Wilson-Bennett NO GOAL
ALB Kennedy Ganser GOAL
› Summary