Alberta thrills home province fans in 3-2 win over Manitoba
by Tina Betz
CALGARY, Alta. – It was an evenly matched game between Alberta and Manitoba, especially through the first two periods on Wednesday evening at Hockey Canada's home arena the Markin MacPhail Centre.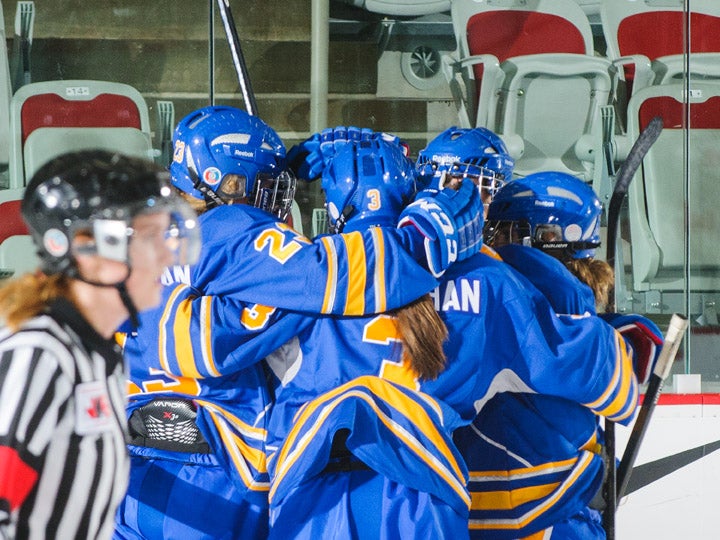 But in the end, the game belonged to the Albertan girls, who thrilled home province fans by beating the Manitobans 3-2 for a win on the opening night of the 2013 National Women's Under-18 Championship.
Hannah Olenyk (Cochrane, Alta./Highwood, AMMFHL) opened up the scoring for Alberta in the first period. Manitoba followed up later in the period with a goal from captain Stephanie Grossi (Winnipeg, Man./ Shaftesbury Academy, Canadian Prep).

Alberta started to skate away with the lead with two quick goals from Emily Monaghan (Calgary, Alta./ Edge School, JWHL) and Kennedy Ganser (Provost, Alta./Lloydminster, AMMFHL). However, Manitoba wouldn't go down without a fight when Danielle Krzyszczyk (Winnipeg, Man. /St.Mary's Academy, Canadian Prep) answered back to finish the second.
Manitoba and Alberta continued to battle hard in the third with only a handful of shots between the two teams, but Alberta managed to hang on to the lead. First-timer to the National Women's Under-18 Championship Monaghan felt twice the happiness with her team getting the win and her work ethic on the ice resulting in player of the game honours.
"It's my first time ever being here, so getting the win is something I've never felt before, so it's awesome," Monaghan said after the game.
Head coach Mikka Makela wanted Alberta to drive the net and get as many shots on goal as possible, Monaghan said of Alberta strategy for its game against Manitoba.
Manitoba's key to the game was to keep it simple, and for players to get comfortable playing in their first game at a major national tournament. Manitoba fought hard and didn't go quietly in the night, firing 19 shots at Alberta goalie Mackenzie Bevan (Edmonton, Alta.).
Grossi said she is looking forward to Manitoba's next game.
"We just (have) to keep getting better like coach (Neil) Chow said, and if we keep doing that, hopefully we will pull out a win," Grossi said after the game.
Manitoba will have its next chance for a win on Thursday against Saskatchewan, with the puck dropping at 1 p.m. MT. Alberta challenges seven-time tournament champions Ontario Red for Thursday night's feature game at 7 p.m. MT. Watch live via FASTHockey at www.hockeycanada.ca/nwu18.
- - -
› Summary