Ontario Blue beats Team Atlantic 4-3 in last minute – literally; Lindsay Agnew scores game-winner
by Timothy MacDonald
Ontario Blue found itself down multiple times against Team Atlantic, but maintained composure, kept up the pressure and thanks to a last minute goal came out on top 4-3 in both team's first game of the 2013 National Women's Under-18 Championship.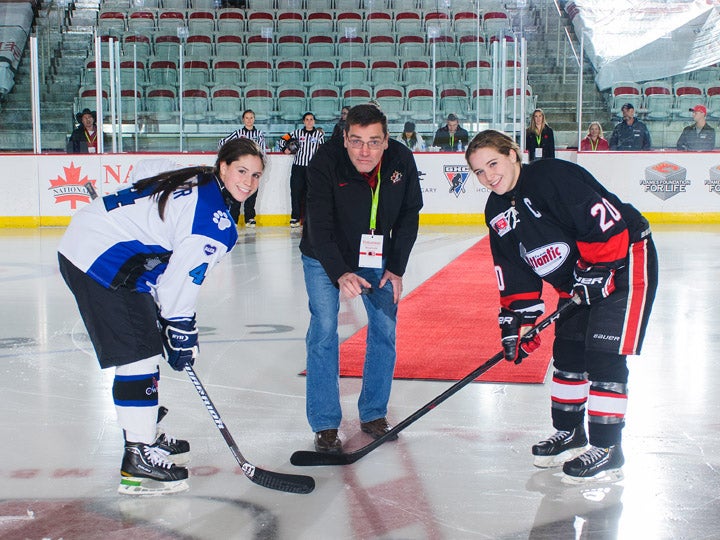 With opening day well underway, the Atlantic players had a tough test ahead of them when they hit the ice for Game 3 of the five-day tournament against defending champions Ontario Blue. Team Atlantic finished in last place last year, and hopes to better that performance this season.
For much of the first period, Ontario Blue maintained possession and was well-organized, while Team Atlantic came out a little more flat-footed, giving Ontario Blue two breakaway opportunities. Both were stopped by starting Atlantic goalie Carly Jackson (Amherst, N.S./Cumberland County, Midget AA).
Ontario Blue would strike first on a rebound goal by Lindsay Agnew (Oakville, Ont./Mississauga, PWHL) almost six minutes into the game. Ontario Blue was able to keep up that pressure until back-to-back penalties, which put Team Atlantic on a 5-on-3 for 45 seconds.
Team Atlantic stayed in the attacking zone for the majority of the 5-on-3, but couldn't get any shots on net. Ontario Blue managed to kill off the rest of the penalty kill easily, going right back to putting shots on Jackson, but the netminder was equal to the task, stopping 13 of the 14 shots in the period.
Late in the frame after the pace slowed down a bit, Team Atlantic struck back with a goal of its own, thanks to Catherine Tufts (Church Point, N.S./Ontario Hockey Academy, Canadian Prep) snipping one from the wing past Sarah McDonnell (Oakville, Ont./Stoney Creek, PWHL).
Minutes later in a scramble in front of the net, Team Atlantic grabbed the lead. Noemie Chiasson (Tracadie-Sheila, N.B./Bathurst, Midget AAA) potted her first goal of the tournament.
The second period started off with Ontario Blue getting some early pressure, but nothing to show for it. The rest of the period was slower, but back and forth, and both teams seemed to be playing safe. Team Atlantic got another power-play opportunity when Ontario Blue took a four minute penalty for hitting to the head. But Team Atlantic couldn't amount much pressure and had a hard time entering the zone.
The only goal of the period came off a scramble in front of Jackson, when Kennedy Marchment (Courtice, Ont./ Durham West, PWHL) netted the goal. Team Atlantic fired eight shots, while Ontario Blue only managed three pucks at the net.
Team Atlantic would jump back into the lead thanks to a goal 20 seconds in, with a blast from Natalie Keeping (Bay Roberts, N.L./T.-N.-L.) going high, glove side on McDonnell. Team Atlantic took its first penalty of the game and that's when Ontario Blue mounted its next attack. Although they did not score on the power play, the central Canadians quickly took momentum away from the Atlantic Canadians.
With Ontario Blue finding a new gear, Alysha Burriss (Napanee, Ont./Durham West, PWHL) made a nifty cross-crease pass to Shelby Perry (Elginburg, Ont./Kingston, PWHL), who buried it in gapping net. That goal lead to the momentum swinging full speed in Ontario Blue's favour, with shot after shot on Carly Jackson (Amherst, N.S./Cumberland County, Midget AA).
Team Atlantic got its fourth power-play opportunity with about seven minutes remaining. They sustained time in the attacking zone, but couldn't muster a scoring chance.
Ontario Blue continued its pressure, and finding the back of the net was Josiane Pozzebon (Bourget, Ont./Nepean, PWHL), squeaking one through the equipment of Jackson with just under a minute remaining. Team Atlantic pulled its goalie in a last second effort to tie the game, but couldn't and fell to Ontario Blue 4-3.
Jackson was named player of the game for Team Atlantic, as she made 21 saves in the loss.
"I think it just gets us closer," Jackson said after the game. "Everyone just battled hard and we became tighter-knit. If we keep playing the way we did, we'll come out on top."
It's true Atlantic gave Ontario Blue quite a battle, playing an aggressive game, captain Lauren Lefler (Windsor, Ont./Bluewater, PWHL) said following the game.
"(They) fought through, kept moving and (were) strong," she said of the opposition.
But in the end, Ontario Blue came out on top, and Lefler was named player of the game for her squad.
"I think we have good team chemistry, so I think that helps a lot," she said. "We didn't give up on each other."
Ontario Blue goes up against B.C. on Thursday at 4 p.m. MT, while Team Atlantic plays the early game at 10 a.m. against Quebec. Follow all the action live at www.twitter.com/hc_nwu18.
- - -
› Summary