B.C. BEATS ATLANTIC 7-2 IN FRONT OF HOME CROWD; POTOMAK POTS HAT TRICK

DAWSON CREEK, B.C. – Dawson Creek hockey fans got the excitement they were looking for Friday night inside the EnCana Events Centre, with British Columbia stepping out of the doors and onto the ice flying from the first puck drop to the final buzzer en route to beating Team Atlantic 7-2 and earning a spot in Saturday's semifinals.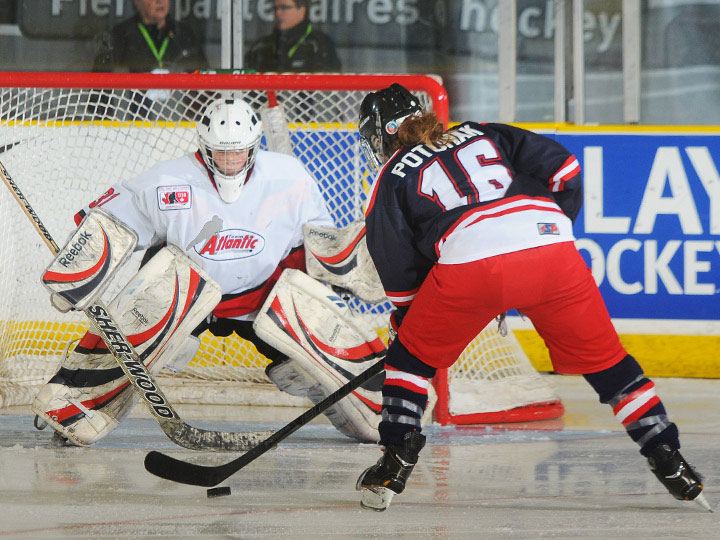 And forward Sarah Potomak (Aldergrove, B.C.) may have had a little something to do with – the superstar forward had a hat trick and an assist to lead B.C. to the thrilling win that had fans in the stands and players on the bench jumping and cheering with adrenaline and excitement when the final buzzer sounded on the game.

Potomak potted her first goal on a 5-on-3 man advantage at 4:15 in the first on a Hannah Miller (North Vancouver, B.C.) assist, and Miller herself made it 2-0 just 17 seconds later on another power-play goal. And Potomak, Miller and their teammates on B.C. simply wouldn't let up – Potomak added her second of the night in the last minute of the period, with Miller again helping out with an assist.

That made for quite a hole for Team Atlantic to attempt to dig out of going into the second, and Potomak and crew would only continue to make that crevice deeper. Potomak fed Mackenzie Wong (Surrey, B.C.) at 1:12 in the period and Emily Costales (Vancouver, B.C.) added an unassisted marker of her own to make it 5-0 in favour of the home province.

Nevertheless, Team Atlantic was determined to narrow that gap, and with a lot of grit and even more heart, fought for a goal of its own, and was finally able to pull off a couple of power-play goals of its own, with Laura Polak (Beford, N.S.) taking a pass from Connor Garagan (Fredericton, N.B.) at 17:20 and Breanna Lanceleve (Middle Sackville, N.S.). adding another to the score sheet at 18:17 to make it a more reasonable 5-2 going into intermission.

Atlantic kept up its momentum in the third, but B.C. pushed just as hard to perform for their home province crowd, with Wong getting the puck to Potomak, who had her third goal of the night on yet another power-play at 17:12 of the final frame. It looked like that would cap off the final score, but B.C.'s Brielle Bellerive was able to add another to the scoreboard a minute later for the 7-2 final, much to the dismay of Team Atlantic's family and friends who travelled across the country, and to the delight of B.C.'s many fans filling the local arena.                                                                                                       

Watch the placement and semifinal games Saturday free of charge on FASTHockey, and check out www.Twitter.com/HC_NWU18 for live game updates from the EnCana Events Centre!