QUEBEC BEATS BRITISH COLUMBIA IN A BLOWOUT WIN

SURREY, B.C. – Ariane Barker (Napierville, Que.) pocketed a couple of goals early in the first period to help put her team on the fast-track to a 6-1 win over British Columbia in the final game of preliminary action Thursday night in Surrey.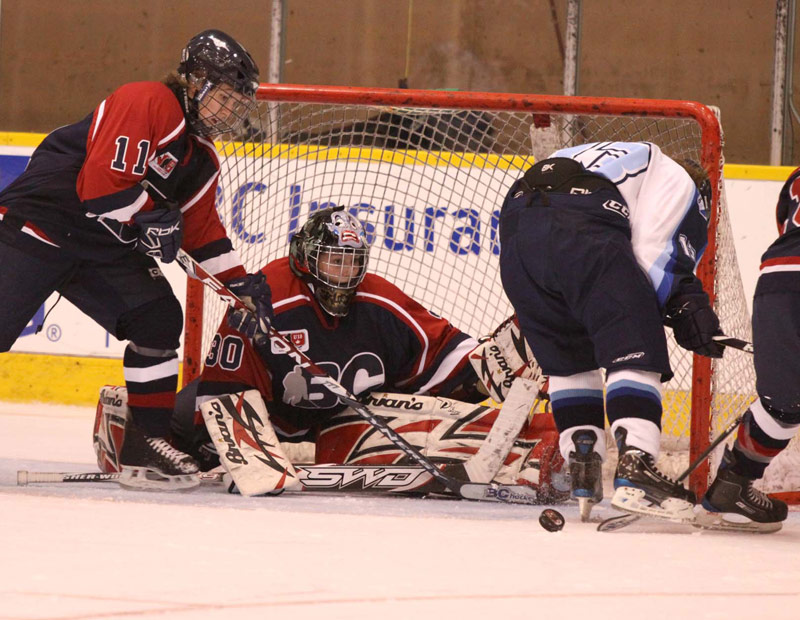 Her first goal of the evening came a mere 27 seconds into play, on a pass from Élarie Leclair (Varennes, Que.), letting the West Coasters know immediately that it wasn't going to be an easy game for them. Barker's next one happened just over five minutes later on a power play, with assists going to Mélodie Daoust (Valleyfield, Que.) and Cassandra Poudrier (Terrebonne, Que.).

Kaylo Tutino (Lorraine, Que.) provided Quebec's third of the night, but Lauren Kimura (Surrey, B.C.) answered with British Columbia's sole goal of the night before the clock ran down on the first period. Kimura, the only Surrey native on the province's team, also won British Columbia's player of the game honours. Barker was named player of the game for Quebec.

The following two periods allowed Quebec to turn a win into a blowout victory, with Daoust securing a couple goals of her own and Laurence Porlier (Maria, Que.) contributing a single.

Despite the gap in scoring, British Columbia's goaltender faced 45 shots on the night, making 39 saves an impressive showing for a difficult match-up.

British Columbia is back on the ice for the late game Friday (8 p.m. PT) against Manitoba, while Quebec takes on Alberta (1 p.m. PST) in what will likely be a competitive match-up.


Game Information
Game Number
8
Round
Preliminary
Arena
South Surrey Arena
City, Country
Surrey, B.C., Canada
Month / Day / Year
11/05/2009
Time (local)
08:00 PM PT
Attendance
Game Status
Final
Box Score
1
2
3
Total
Quebec (QC)
3
1
2
6
British Columbia (BC)
1
0
0
1

Goals/Penalties
First Period
Goals:
00:27 QC 9 Ariane Barker (27 Elarie Leclair)
05:49 QC 9 Ariane Barker (17 Mélodie Daoust, 6 Cassandra Poudrier) PP
11:57 QC 8 Kayla Tutino (11 Gabrielle Davidson)
17:31 BC 20 Lauren Kimura (9 Carling Chown)


Penalties:
04:36 BC 10 Sarah Casorso (Hooking)
13:02 BC 19 Lindsey Audia (Roughing)
18:11 BC 10 Sarah Casorso (Interference)


Second Period
Goals:
10:07 QC 17 Mélodie Daoust (28 Abbey Frazer, 9 Ariane Barker) PP


Penalties:
08:56 BC 15 Brittany Laing (Slashing)
12:19 BC 15 Brittany Laing (Bodychecking)
15:22 QC 4 Geneviève Legault (Roughing)
19:45 QC 13 Alex Lapointe (Tripping)


Third Period
Goals:
02:21 QC 22 Laurence Porlier (7 Laurie Mercier)
18:01 QC 17 Mélodie Daoust (28 Abbey Frazer)


Penalties:
03:18 BC 15 Brittany Laing (Bodychecking)
05:56 QC 6 Cassandra Poudrier (Interference)
08:55 BC 16 Alex Yallouz (Bodychecking)
09:21 BC 6 Mary Claire Geneau (Roughing)





Goaltenders
Quebec

| | | |
| --- | --- | --- |
| 30 Anne-Renée Desbiens | On 1/00:00 | Off 3/20:00 |

British Columbia

| | | |
| --- | --- | --- |
| 30 Jennifer Gilligan | On 1/00:00 | Off 3/20:00 |




| | | | | |
| --- | --- | --- | --- | --- |
| Shots on Goal | 1 | 2 | 3 | Total |
| Quebec | 18 | 15 | 12 | 45 |
| British Columbia | 6 | 3 | 10 | 19 |




Player of Game
Quebec
19 Ariane Barker
British Columbia
20 Lauren Kimura
Officials
Referee
Gabrielle Ariano-Lortie
Lines People
Christine Durham, Lacey Senuk