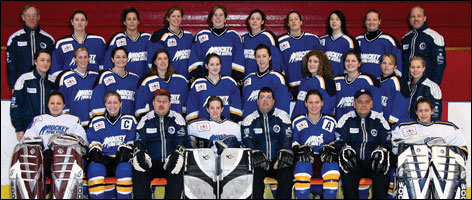 » Roster

TEAM NOVA SCOTIA: We would like to take this opportunity to thank Hockey Canada and the sponsors for this year's Esso Women's Nationals. We also extend a special thanks to the Salmon Arm host committee and the many volunteers who have spent or will spend countless hours to help the teams and officials enjoy both this tournament and the fine hospitality this community is known for.
This year's Team Nova Scotia is very excited to be playing in Pool A of the Esso Women's Nationals. We again have a great mixture of youth and experience, much as we did last year. Although we do have a strong returning group from last year's team, we are again in the situation that we must wait until the local universities finish their playoffs before our team numbers can be finalized, as this will effect as many as nine members of the team.

On a more positive side, the development of our younger players has reached a point where even though a number of our younger players are participating in the Canada Winter Games, we have once again found five extremely talented players from our Midget ranks who we feel are capable of playing at this level. So again, the development of our younger players and the cooperation from our universities has been a key part of what has been able to keep this team going and make it more competitive every year.

So, from Team Nova Scotia, thank you to everyone involved in the tournament and good luck to all the teams and officials participating.