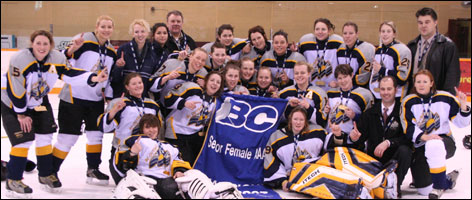 » Roster

TEAM BRITISH COLUMBIA HOST : The BC Outback is the three-time (2005/06/07) British Columbia Female Senior AAA Provincial Champions. It is an elite team that was developed eight years ago to provide the top players in the Interior and Northern B.C. a place to play without having to move to a large center. In a sense, the Outback is every Interior and Northern B.C. town's elite level female team. All the players remain living at home while playing for the Outback and train and play within their community.
Over the past years, the Outback has placed numerous players into college and university programs and has had three invites into Team Canada U22 try-outs. Currently of note: three alumni play with USA Ivy League schools, another for the NCAA Division 1 champions Wisconsin Badgers, and alumni are also current captains or assistants of UBC, University of Regina, Mount Royal College, and SAIT. Each year, tryouts in September determine which of the most talented, motivated and coachable players from rural B.C. get selected to the team. The team then holds weekend camps every three weeks in various locations throughout B.C., Alberta, and Saskatchewan, where the players practice and play against other elite level teams. The players are all assigned fitness programs and skills to work on with their hometown teams between camps. Last season, the average travel time to a camp was a remarkable 6.5 hours of mountain driving, per player, each way.
The Outback only manage to get in six to seven practices, five to six classroom sessions and 20 to 24 games each season. Despite few practices and games to bring the team together, the Outback model has worked remarkably well to serve geographically-challenged players. Having this caliber of female hockey come to the various towns in B.C. generates a lot of enthusiasm and support for the female game. Many of our present and past players are currently, capable female coaches sprinkled across the province.
The BC Outback team is proud to be the B.C. Host at the Esso Women's Nationals and sincerely thanks all the sponsors and volunteers for their commitment to women's hockey.