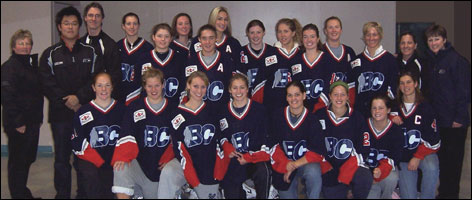 »Roster
TEAM BRITISH COLUMBIA: After a 10-year absence, the return of the Esso Women's Nationals to British Columbia has generated much excitement amongst Team BC players and staff. We are eagerly looking forward to the opportunity to compete in our home province in front of our friends, families and the hometown fans. We hope to provide our fans with fun and exciting hockey games to watch as we strive to regain our standing in Pool A.
This year's Team BC members were chosen at the conclusion of a three-day open selection camp which was held in Hope in October, 2006. More than 50 players attended the camp to vie for the right to represent British Columbia at Esso Women's Nationals. In the end, eight returning Team BC players were joined by 12 newcomers.
After the selection camp, the team came together again in December to work on team systems and practice together for the last time before reuniting in Salmon Arm in preparation for competition.
We would like to thank the organizing committee for all of their hard work in preparation for the tournament. We would especially thank all of the numerous volunteers whose kind support makes this tournament possible.