TEAM ALBERTA WINS ESSO NATIONAL CHAMPIONSHIP!
The 2003 Esso Women's National Hockey Championship wrapped up with a thrilling championship final game, a 6-3 Team Alberta win over team Ontario in front of over 1,100 fans at Saskatchewan Place.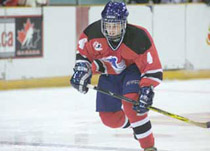 QUEBEC WINS BRONZE
Team Quebec captured the bronze medal at the 2003 Esso Women's National Hockey Championship after a 3-0 win over Team BC in Sunday afternoon's bronze medal game. Lisa-Marie Breton-Lebreux, Chantal Lamron and Marie-Claude Allard scored for Quebec.


ONTARIO BEATS QUEBEC
In Saturday's other semi-final, Team Ontario downed Team Quebec 3-1. Vicky Sunohara, Lori Dupuis and Coley Dosser each scored while Erika Silva made 18 saves for the win in goal. Sonia Corriveau netted Quebec's lone marker. Players-of-the-game were Kristy Zamora (ON) and Chantal Lampron (QC)
ALBERTA AND ONTARIO TO BATTLE FOR ESSO NATIONAL CHAMPIONSHIP
The Gold Medal match-up takes place at 7:30pm (Central Time), Sunday, March 16, 2003 at Saskatchewan Place in Saskatoon, SK... » more
TOURNAMENT ALL-STAR TEAM
Most Valuable Player
Danielle Goyette (AB)
Top Goaltender
Amy Handrahan (NS)
Top Defensemen
Colleen Sostorics (AB)
Top Forward
Jayna Hefford (ON)
Most Sportsmanlike Player
Lisa-Marie Breton-Lebreux (QC)
Most Sportsmanlike Team
Newfoundland & Labrador
Isobel Gathorne Hardy Award
Tanya Leone (BC)

ALBERTA DOWNS BC TO MOVE ON TO FINAL
Team Alberta advanced to Sunday's gold medal final after a 5-1 win over Team BC. Despite allowing the first goal of the game... » more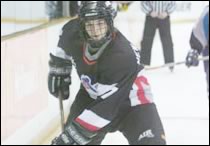 NEW BRUNSWICK OVER MANITOBA
Team New Brunswick capped off their 2003 Esso Women's National Hockey Championship experience with a thrilling 4-3 overtime win over Team Manitoba.